Plastic corrugated flexible pipe making machine
Product Detail
Product Tags
plastic single wall corrugated pipe extrusion line can produce PP/PE/PVC/EVA/PA corrugated pipe.Mould Chain adopts gear transmission,base plate adopts water cooling,mould adopts air cooling.
Corrugated pipe produced by our machine has the features of high production speed,even corrugated shape,straight pipe seam,and smooth surface. By equipped with vacuum pump and vacuum type mould,it can produce different use corrugated pipe with joint(wash basin drain pipe,air conditioner pipe,hookah pipe etc.)
Extrusion line for the production of single-wall and double wall corrugated tubes and pipes made of PE, PP, PVC, PA, EVA, PVDF, TPE etc.
Main Technical Parameter---Single Wall Corrugated Pipe Make Machine:
| | | |
| --- | --- | --- |
| Extruder Model | SJ45 | SJ65 |
| Screw diameter (mm) | 45 | 65 |
| Ration of L/D | 28-33:1 | 28-33:1 |
| Pipe diameter range | 9-32 | 32-110 |
| Pairs of modules | 42 (50) | 50 |
| Line speed (m/min) | 3-15 | 3-15 |
| Module cooling way | Air-cooled | Air-cooled |
| Pipe cooling way | Air-cooled | Air-cooled |
| Total install powder (kw) | 50 | 70 |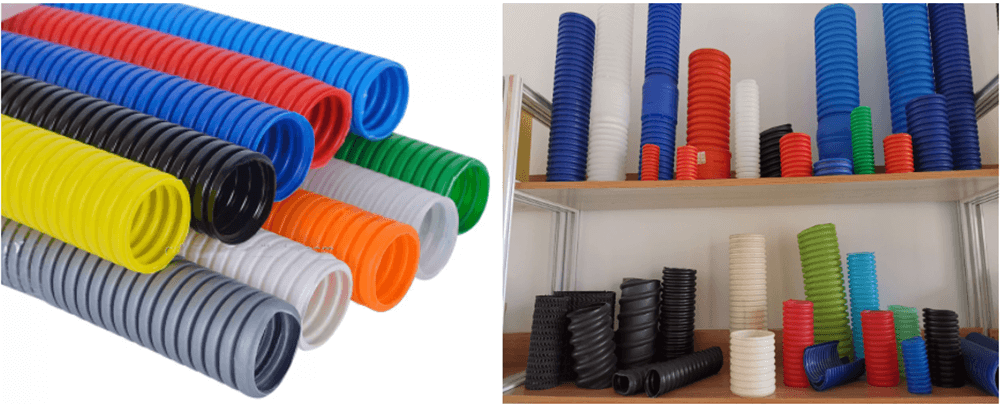 Main applications:
Building industry: electrical conduit & sanitary hose duct/flexible pipe for siphon, PP-PE-PVC-PA
Automotive industry: Fuel line pipe & wiring harness tubing, PP-PA6-PA11-PA12-PA612
Medical industry: breathing tubes, LLDPE,EVA
The range includes: Water cooling corrugator, Blow forming system corrugator, Vacuum forming system corrugator, Sequential mode corrugator, Variable Chain Length corrugator.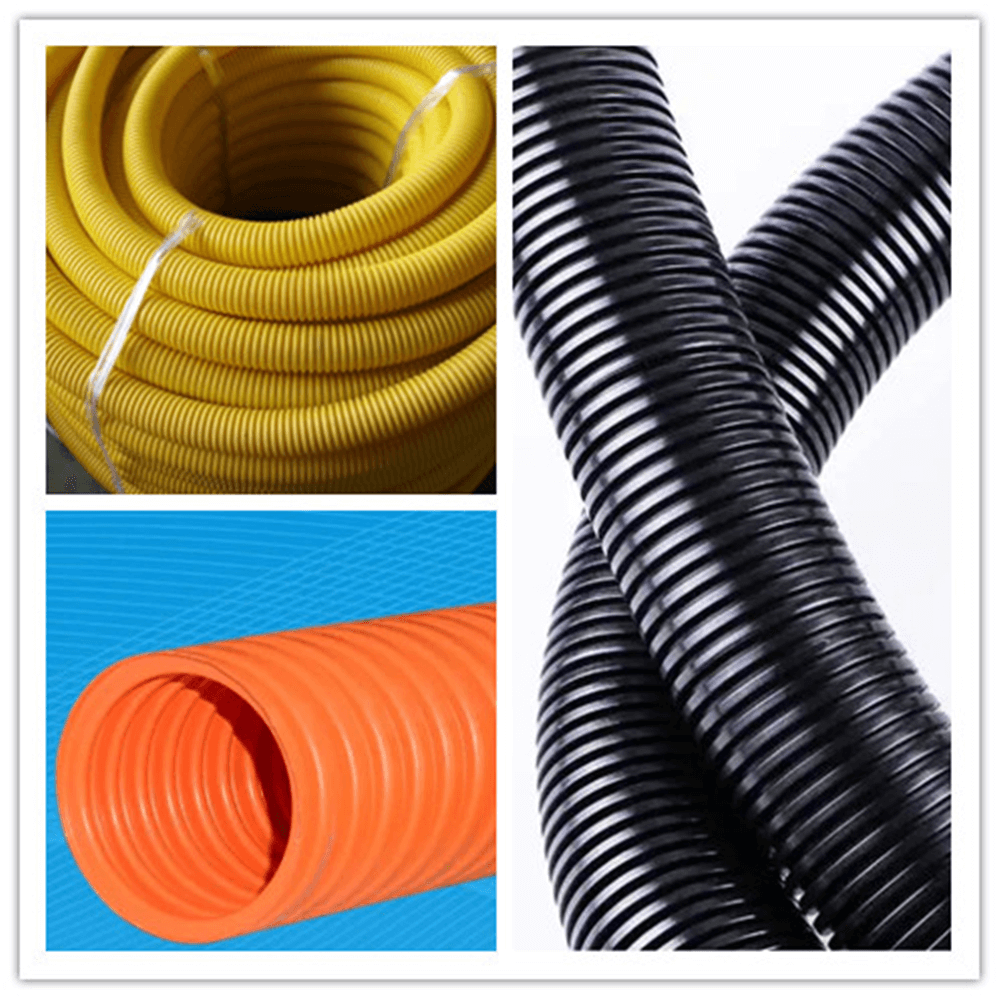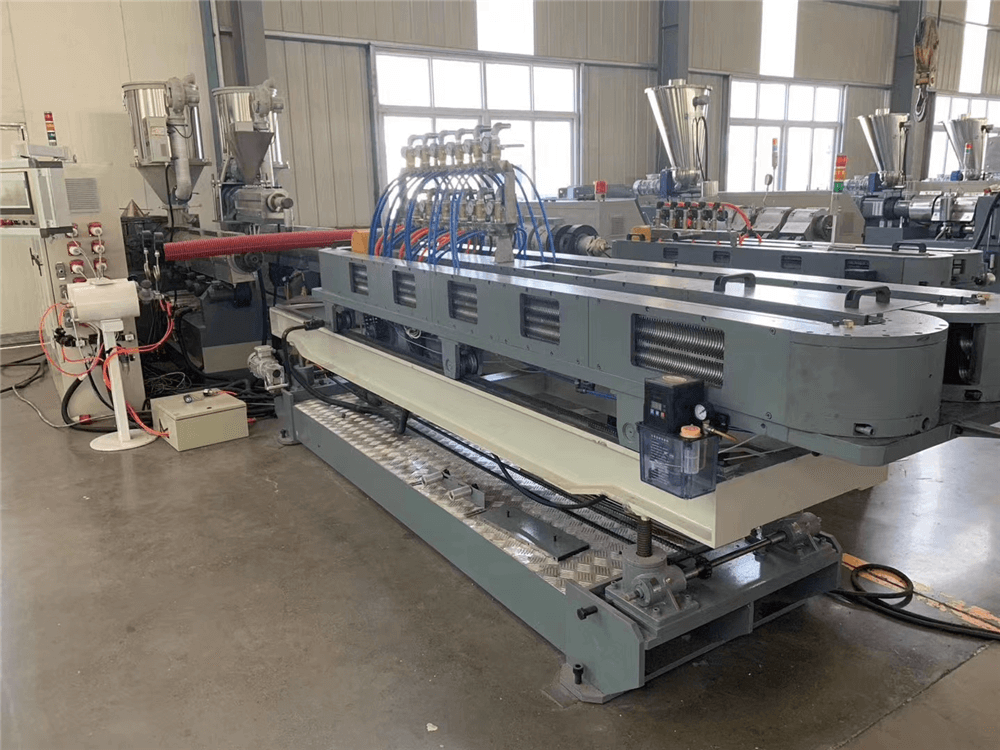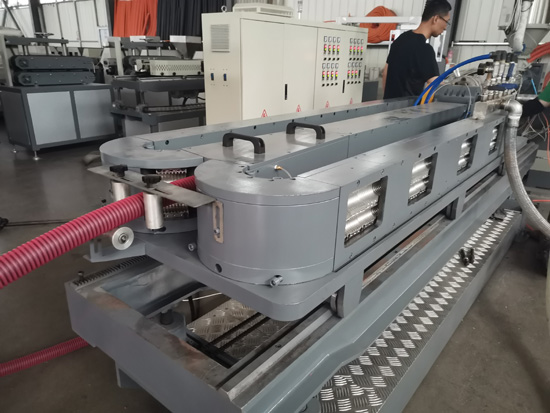 I:  features of  plastic corrugation pipe production machine
1. PP/PE/PA/PVC/EVA production line can be used to produce single-wall corrugated pipes.
2. Plastic single-wall corrugated pipes have features of high temperature resistance, resistant to corrosion and abrasion, high intensity, good flexibility, etc. They are widely used in fields of auto wire, electric thread-passing pipes, circuit of machine tool, protective pipes of lamps and lanterns wire, tubes of air conditioner and washing machine, etc.
3.Plastic single-wall corrugated pipe production line developed by our company adopts gears to run moulds and templates so as to realize water circulating cooling and air cooling of the products, which ensures high-speed molding, even corrugation, smooth inner and outer pipe wall. These corrugated pipes are especially used as wires of the up-market cars.
II: process of plastic corrugation pipe production machine
loader→Single screw extruder→Die→Forming moulds→Water tank(optional)→Haul off and cutter(optional)→Double working-station winder

III: material of  plastic corrugation pipe production machine
PVC PP PA PE EVA
IV: application of corrugated pipe
auto wire,electric thread-passing pipes,circuit of machine tool
protective pipes of lamps and lanterns wire,tubes of air conditioner and washing machine, etc.
technical parameter of  plastic corrugation pipe production machine
With special aluminum alloy mould bolck with anti-adhereing treatment, cooling air, cooling water and vacuum channel inside of mould block ensure good forming structure of pipe and speed.
Special structure die make the thickness of the interior and exterior wall even, and stable molding.In addition, the thickness of interior and exterior can be adjusted.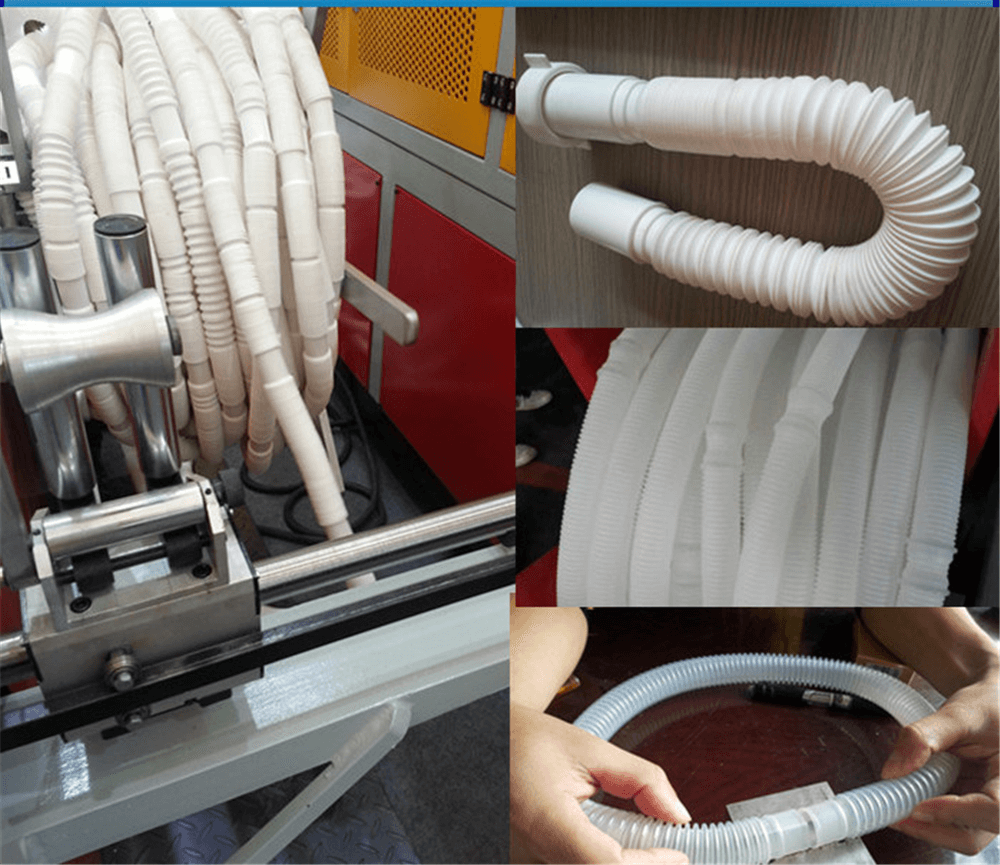 With special and accurate forming module;Cooling air and water system guarantee the production speed fast.With belling inline system.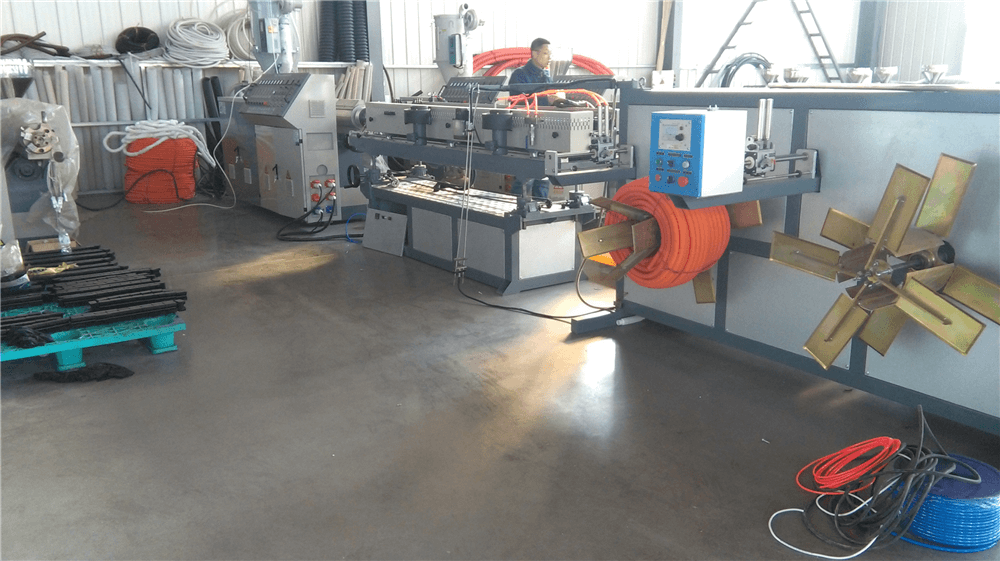 | | | | | | |
| --- | --- | --- | --- | --- | --- |
| Pipe diameter range | 4.5mm-12mm | 9mm-32mm | 12mm-63mm | 32mm-110mm | 50mm-160mm |
| Model of extruder | SJ45 | SJ50 | SJ65 | SJ75 | SJ90 |
| Production capacity | 20-30kg/h | 40-50kg/h | 60-70kg/h | 70-90kg/h | 100-120KG/H |
| Power of extruder | 7.5kw | 15kw | 30kw | 37kw | 55KW |
| Power of forming machine | 1.1kw | 1.5kw | 4kw | 4kw | 4KW |
| Pairs of modules | 42pairs | 50pairs | 50pairs | 72pairs | 72pairs |
| Cooling mode | Wind&Water cooling | Wind&Water cooling | Wind&Water cooling | Wind&Water cooling | Wind&Water cooling |
| Production speed | 6-10m/min | 8-12m/min | 8-12m/min | 2-6m/min | 2-6m/min |
Main machine model
SJ-45
SJ-65
SJ-65
Pipe diameter range (mm)
4.5-9
9-32
16-50
Main machine L/D
30:1
28:1
33:1
Production capacity (kg/h)
30
60
100
Main motor power (kw)
4
15
22
Molding machine power (kw)
1.1
1.5
2.2
Pairs of modules
38
72
90
Production speed (m/min)
6-10m.min
25m/min
30m/min
Cooling mode
Wind and water cooling
Metering mode
Inducting mode
Coiling machine mode
Motor-driven, manually-operated
SJ-65 PE PP Single-wall Corrugated Pipe Extrusion Line
| | |
| --- | --- |
| Service condition | 380-/3Phase/50HZ |
| Material : | PVC/PP/PE |
| Pipe range : | 16-23mm |
Single-Screw Extruder of SJ—65/30: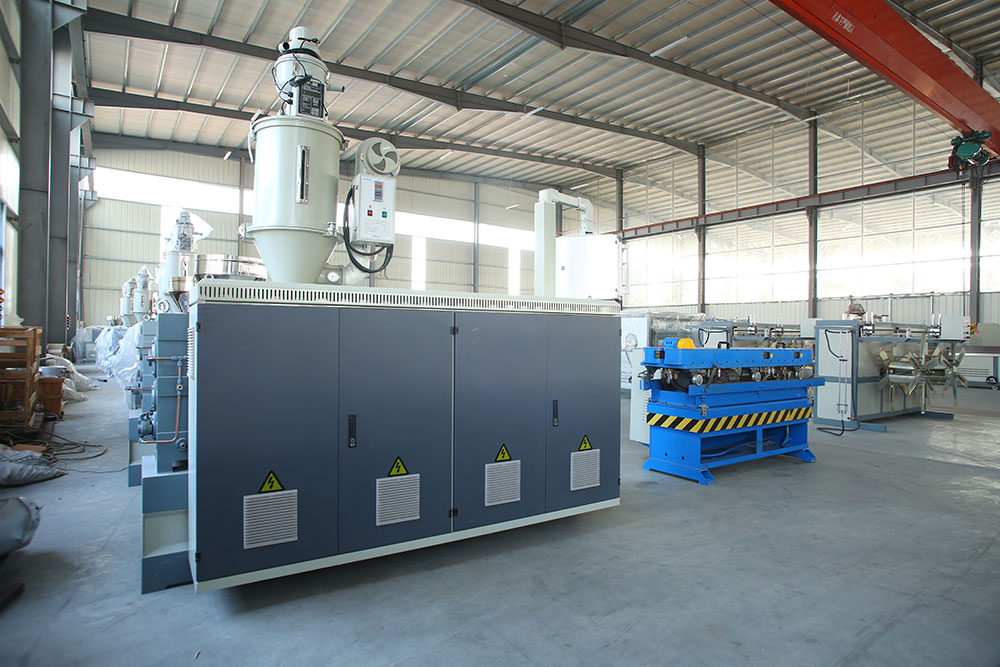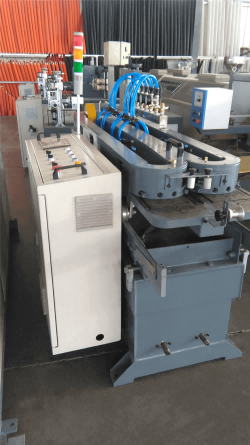 | | |
| --- | --- |
| Speed frequency regulator | |
| Screw | 1).Screw diameter : 65mm2).The length and diameter ratio of screw : 30:13).Material of screw: 38CrMoALA,under nitrogen treatment4).The depth of nitrogen layer of screw: 0.4-0.6mm,hardness: HV>740 |
| Barrel | 1).The material of barrel: 38CrMoALA,under nitrogen treatmentl .The depth of nitrogen layer of barrel:0.5-0.7mm,    hardness: HV>9403).Barrel heating : 4 heating section ,Material of heating circle :stainless steelHeating power : 6kw*4 sections4).Barrel cooling:4 cooling section,Cooling power:0.18kw*4sections (fan blower ) |
| Motor | Driving motor power : 22kw |
| The capacity of extruder | 80kg/h |
| Auto material loading machinery | |
| Reduction gearbox | 1).Speed reducer is of hard tooth surface2).Material of gear is 20CrMoTi under nitrogen, quenching and grinding treatment.3).Equipped with outer cooling device.The device has strong loading capacity, stable transmission , low noise and high efficiency, etc. |
Die head
1
Die head material
40Cr
2
Inner structure
Spiral type
3
Melt pressure meter
Equip with a pressure meter to monitor the melt pressure in the die head
Forming machine & forming mould
16 and 23mm two sizes .

1
Material of forming mould
40Cr, nitrogen treated
2
Forming mould
1 set
3
Quantity of mould block
90 pairs
4
Forming machine type
Horizontal type
5
Forming mould moving way
Circle
6
Drive motor power
3kw
7
Inverter
DELTA
8
Cooling way
Air cooling
9
Power of blower
85w×5sets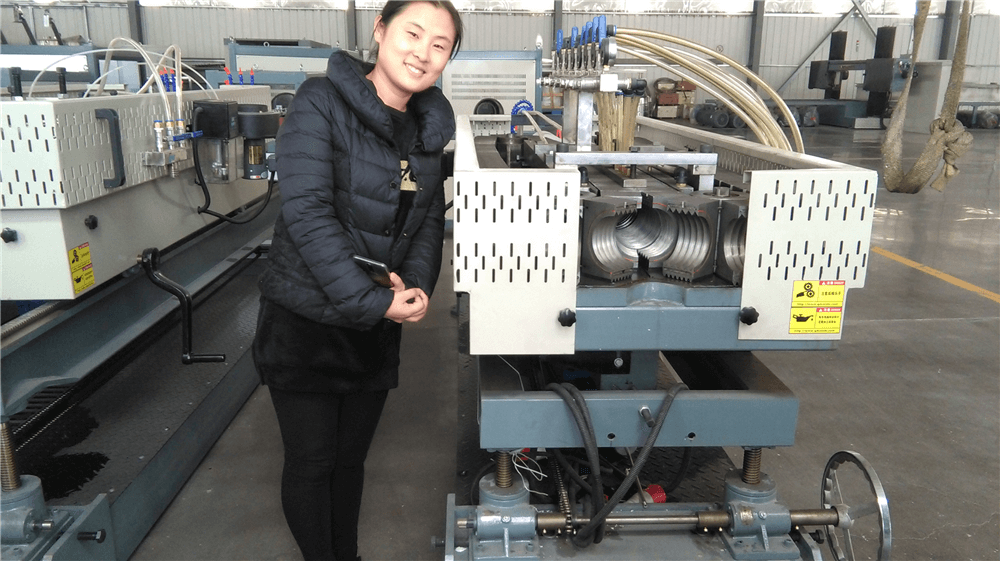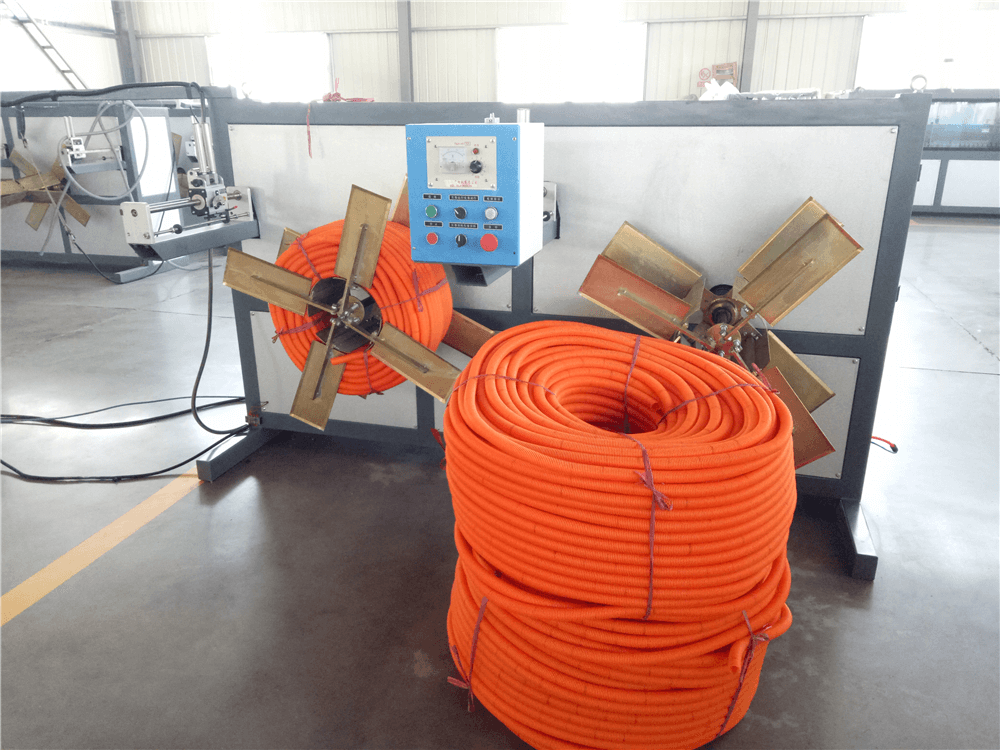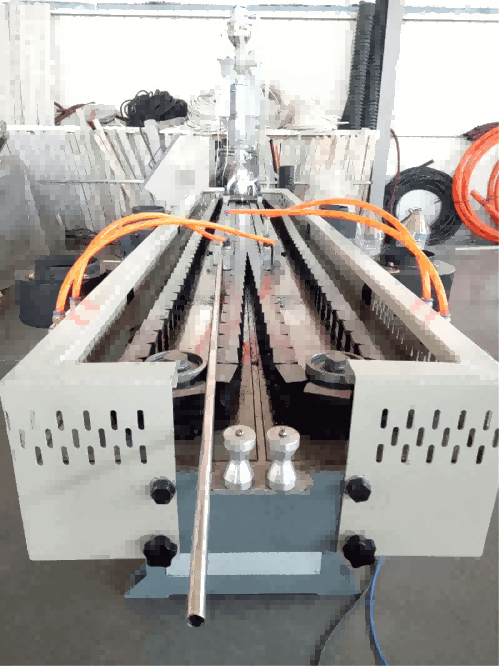 ---
Previous:
PVC Plastic pipe making machine
---
Write your message here and send it to us