PVC Window / Door extrusion machine
Product Detail
Product Tags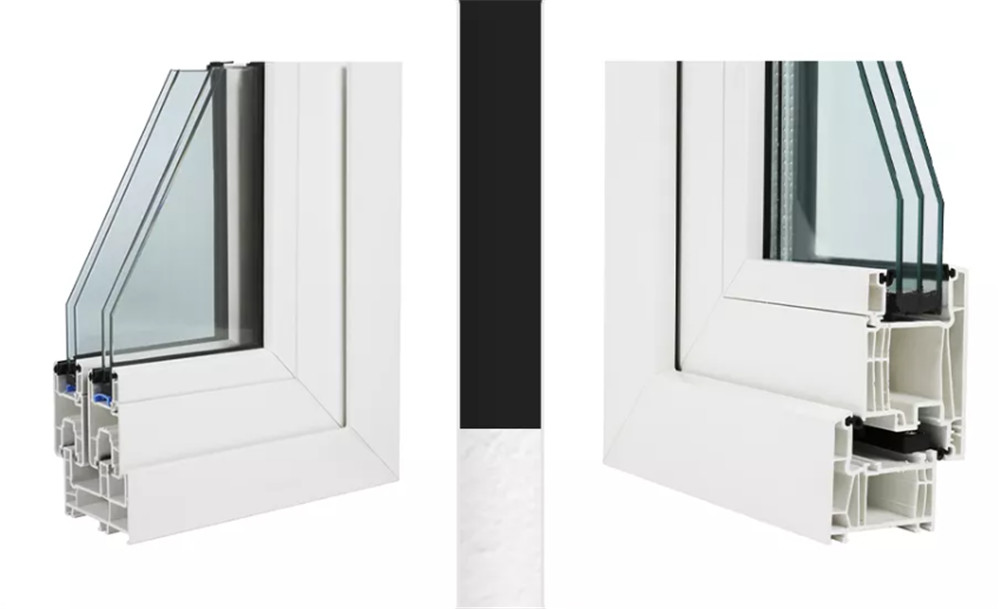 Building Materials UPVC Profiles for casement Window
Advantages of 60 series upvc profile for windows and doors
* Life Long durability,the age of profile is over 30 years
* weather resistance , even in coastal areas and low-temperature
* Wind resistance , we use Chinese top brand hardware to ensure the windows' safety
* Fire resistance ,our profile has been tested 91 minutes in the fire
* Sound insulation ,a good design could lower the noise more than 30 db.
* UV stability or efficient thermal insulation Corrosion resistance
PVC Door Window Profile machine /Plastic Door Frame Profile Extrusion Production Line/PVC Profile Making Machine
Configuration:
Pvc loader---mixer---loader---extruder-----mould-----forming and cooling----haul-off and cutter -----stacker
Main Parameters:
| | | | |
| --- | --- | --- | --- |
| Productin Line Model | SXJZ180 |  SXJZ240 | SXJZ300 |
|  Max Profile Width (mm) |  180 |  240 |  300 |
|  Total Power of Auxiliary Machine (kw) |  15 |  24 |  30 |
|  Capacity of Cooling Water (Cubic meter/h) |  5 |  7 |  7 |
|  Pressure of Compressed Air (MPa) |  0.6 |  0.6 |  0.6 |
Technical configuration and requirements of PVC profile production line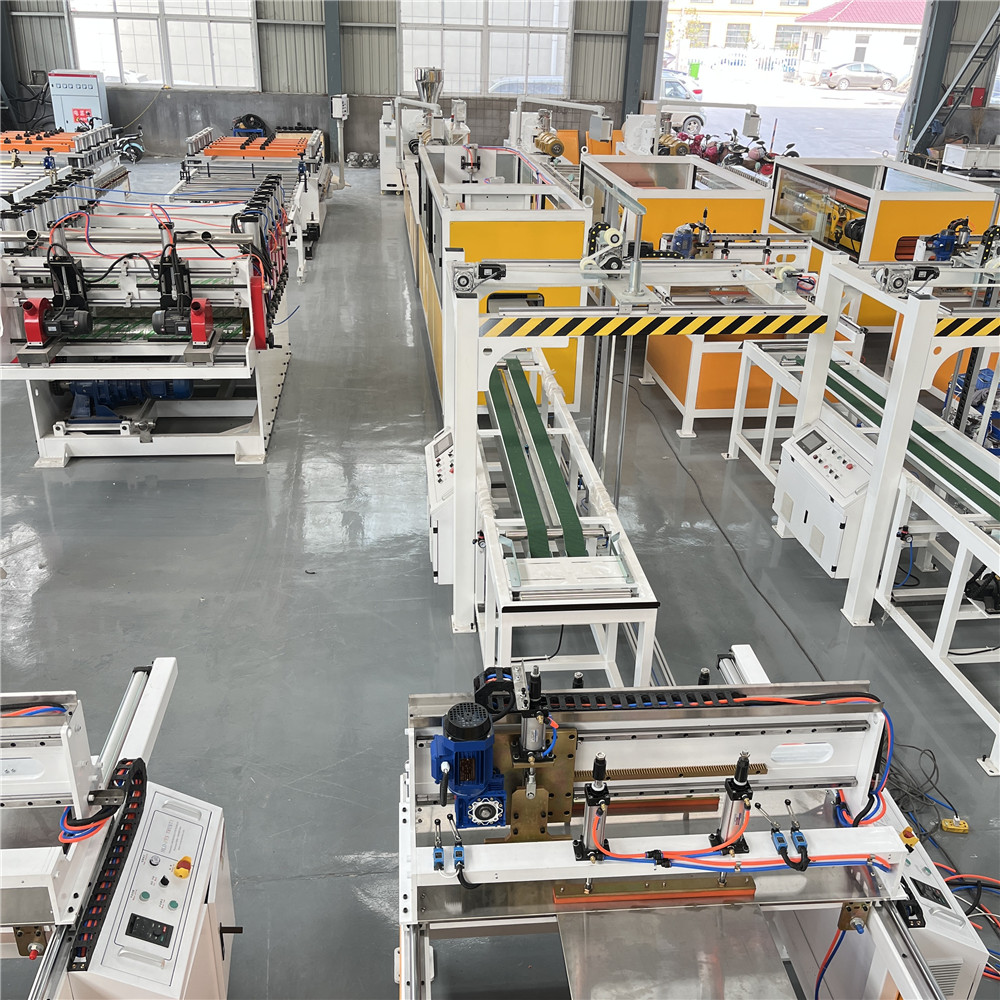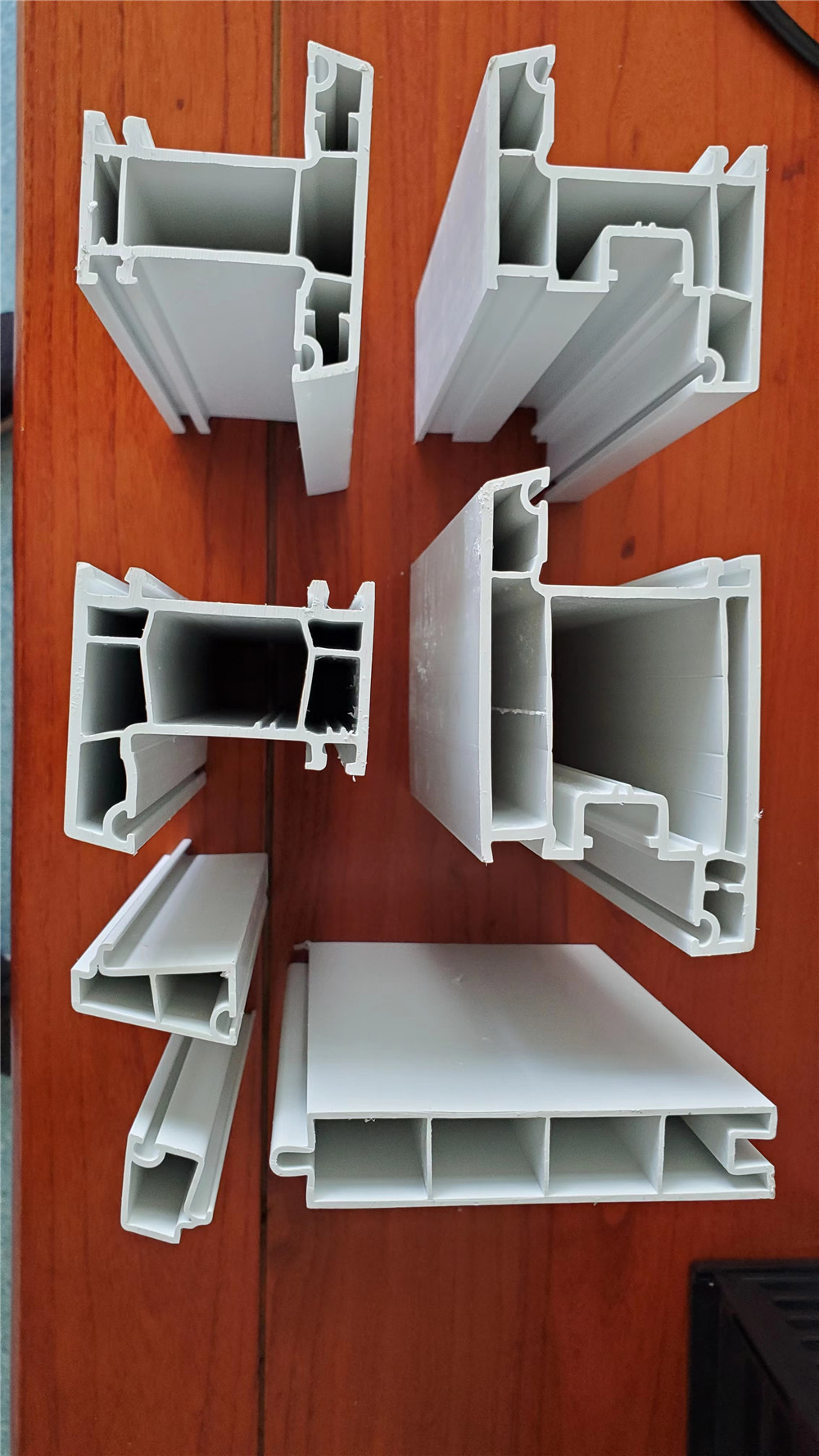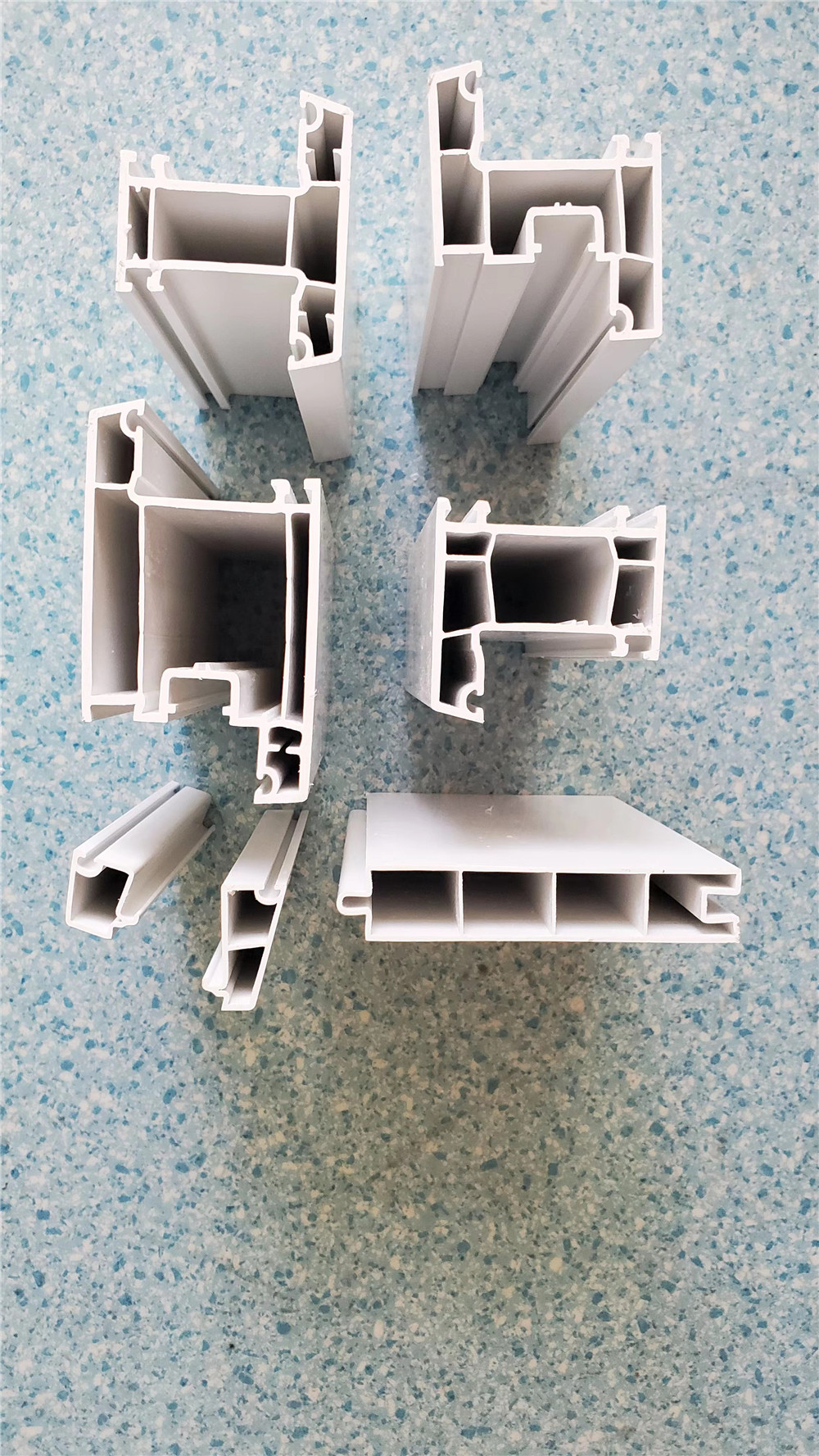 Equipment composition
1. Sjsz-65/132 conical twin-screw extruder (including screw feeder) 1 set
2. CS400/6000 standard vacuum shaping platform 1 set
3. CS240/2000 standard traction cutting machine 1 set
4. CS240/6000 automatic unloading platform 1 set
Production Technical Indicators
Applicable raw materials: PVC powder
Extrusion capacity: 150-200kg/h
Linear speed: 0.5-3m/min
Center height: 1000mm
Compressed air: 0.5m ³/ H
Circulating water volume: 5m ³/ H
Actual power consumption: 45kw/h (installed capacity about 120kw)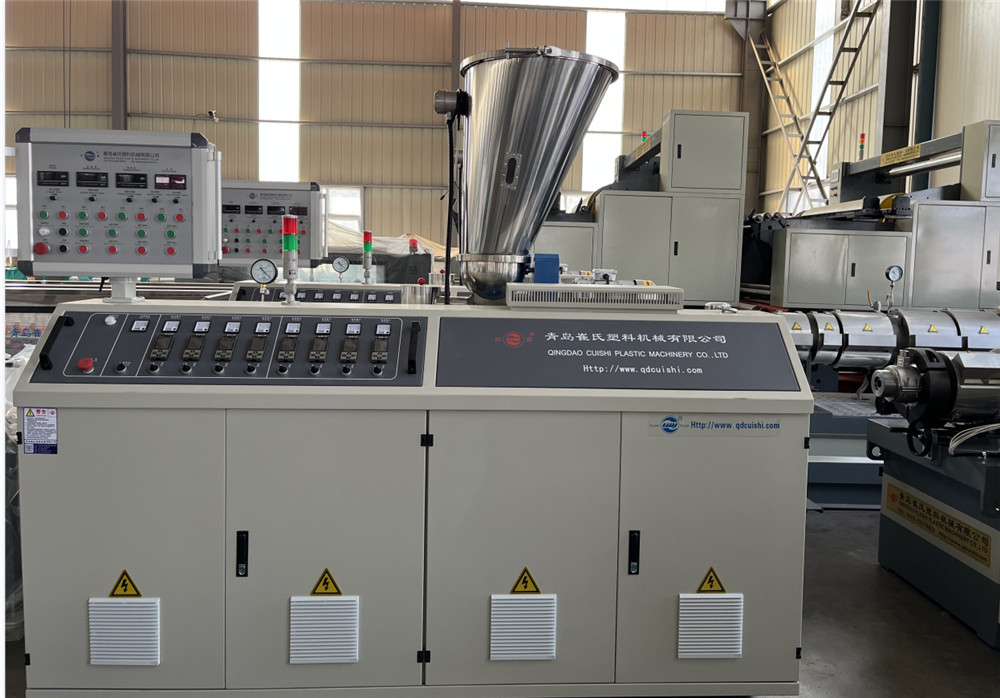 Equipment Configuration
1. Sjsz-65/132 conical twin screw extruder
1.1 automatic feeding system 2.2kW 1 / set
1.2 Inovance servo motor 30KW 1 / set
1.3 speed regulating device 1 / set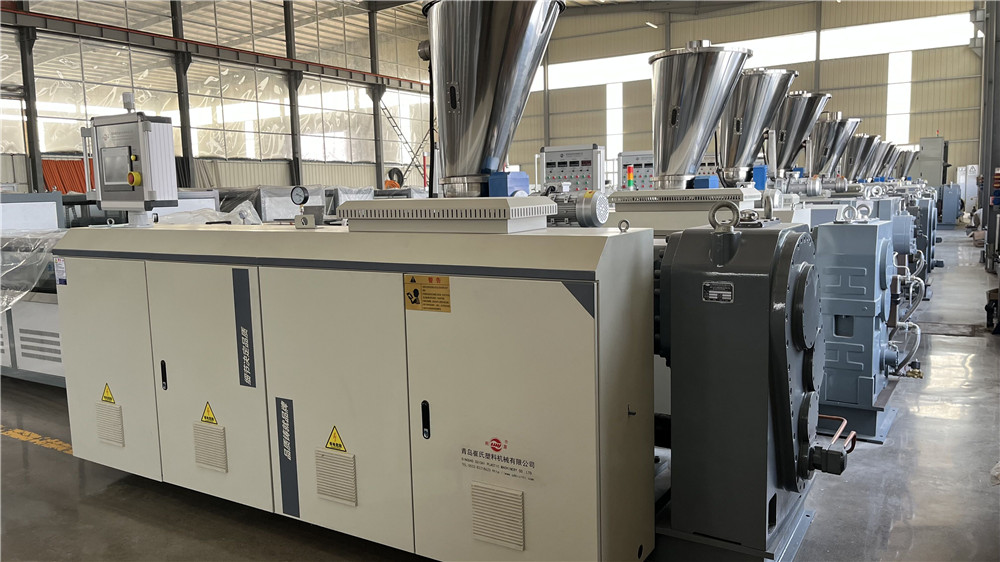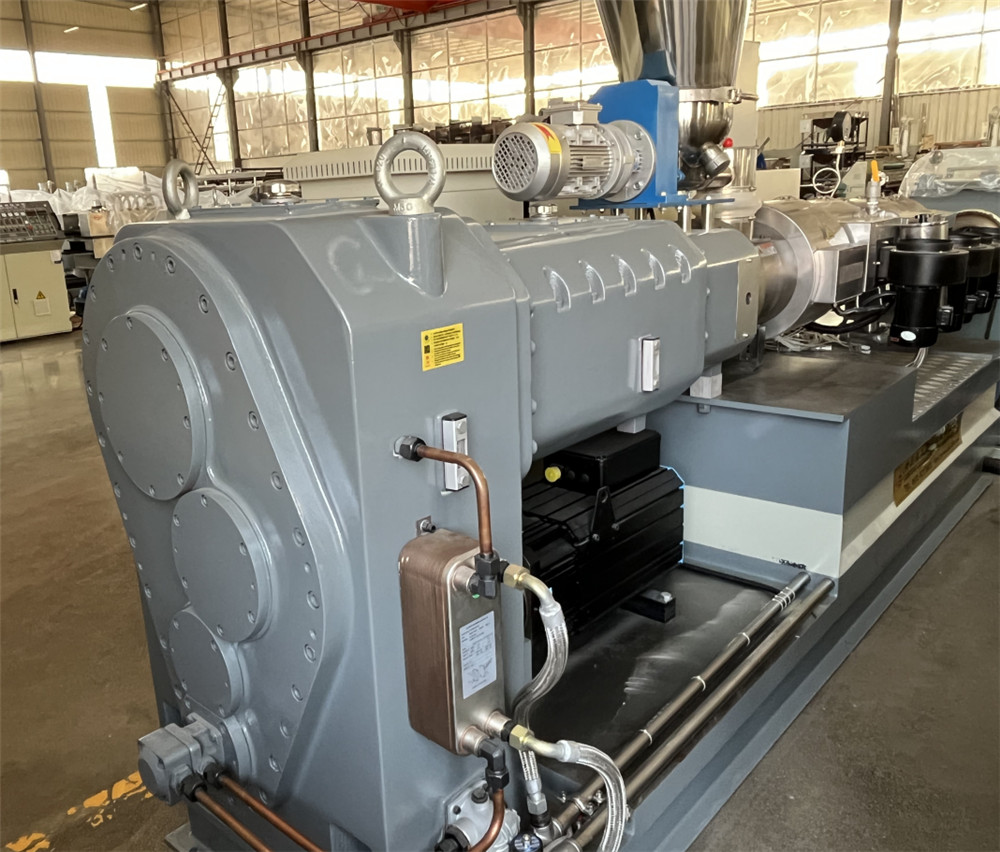 1.4 specific requirements:
Thanks to the newly designed and optimized screw and sleeve, the extruder has the following advantages: high plasticization rate, uniform melt, continuous and stable production. High performance gearbox reducer (jiangyin gearbox factory) has large torque, long service life and low noise. The drive motor is an AC motor.
1) Model Sjsz-65/132
2) Screw - diameter 65/132mm length diameter ratio 22:1
- material 38CrMoAlA- surface treatment Nitriding, polishing
- speed 1-32r/min - origin Demage screw
3)Barrel (material) 38CrMoAlA
- internal surface treatment Nitriding and grinding
- heating method Cast aluminum heating ring
- heating power 22kw - cooling system Barrel fan cooling
- cooling power 0.37kw × three
4) Reducer, distribution box (jiangchi duoling)
- box material HT200 - gear form Helical gear
- infiltration mode Oil immersed helical gear lubrication
- gear surface quenching hardness (gear grinding) hrc54-62
- shaft material High strength alloy steel
- cooling mode Internal circulating water cooling
5) Metered feed
- Method Twin screw feeding - material 40Cr - motor power: 1.1kw
6) Automatic feeder
- Method Spiral feeding mode - power 2.2kw
7) Drive motor - Method AC motor Siemens Bede - power 37KW
- motor controller frequency control
8) Vacuum system Vacuum pump 2.2kw
9) Electrical control cabinet Contactor Siemens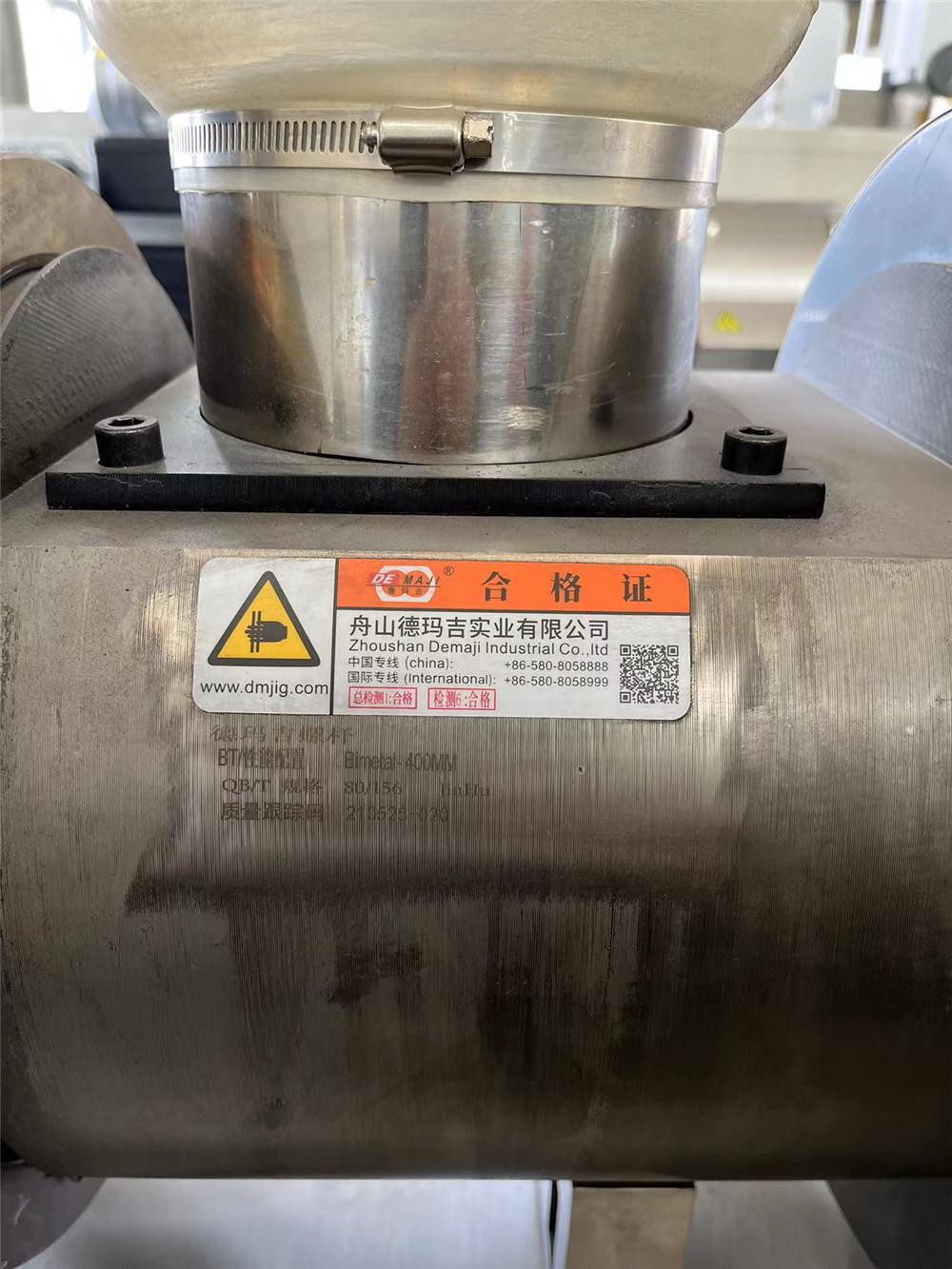 Temperature control instrument OMRON Air switch Schneider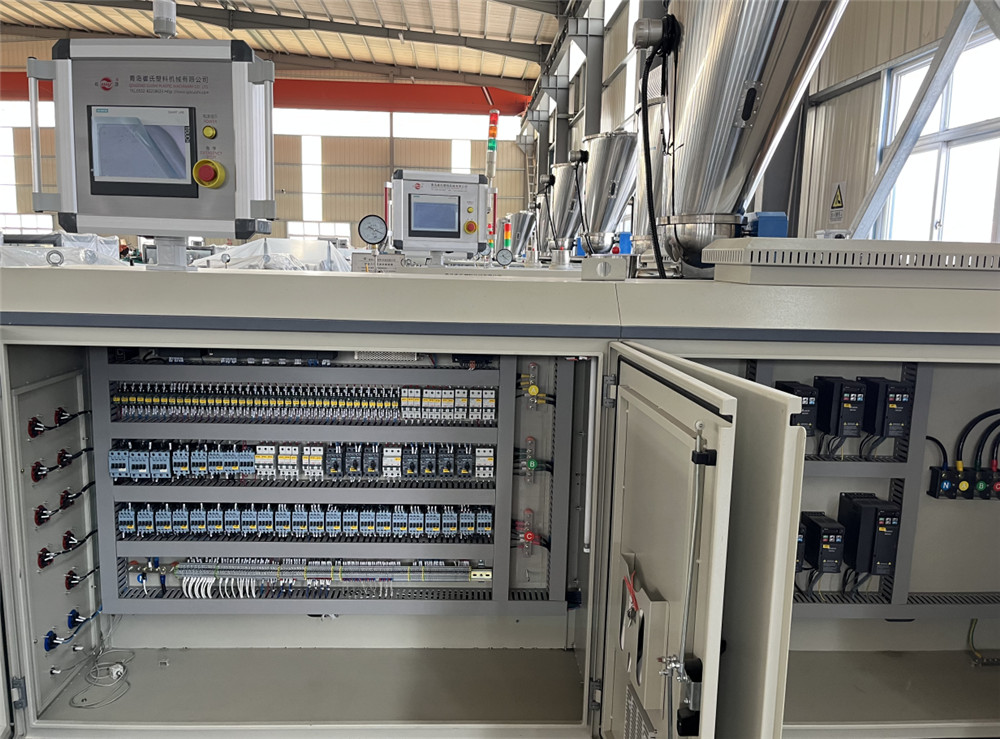 Profile mould we will make moulds with customer drawing and samples
PVC Extrusion Profile Mould/Plastic Profile Die/UPVC Profile Mould and Extrusion Line die tooling
| | |
| --- | --- |
| Model Number | plastic profiles molding die |
| Shaping Mode | Plastic Extrusion Mould |
| Product Material | 3Cr17(P20),3Cr13 or customized |
| Product | extrusion moulds |
| Mould guarantee | 12 months for extrusion moulds |
| Thickness | customized |
| Water tank | siamesed,stailess steel semi-packed or vacuum vortex |
| Application | pvc profile, pvc sheet, ps profile |
| Surface treatment | mirror-polished mold surfance |
| Heating plates | cast-aluminium heating plates |
| Length | custimized for extrusion moulds |
| HS code | 8480790090 |
| Product Name | extrusion moulds |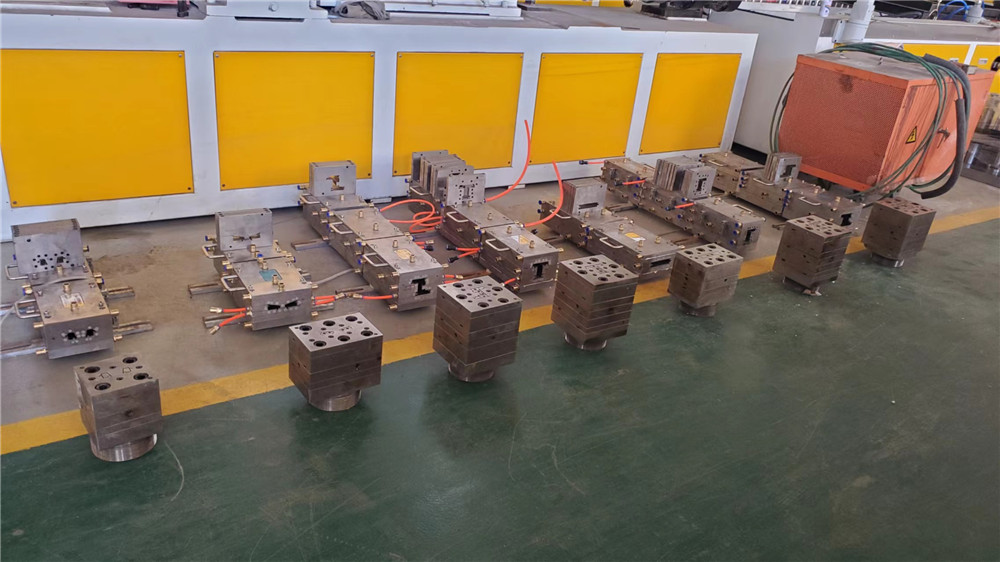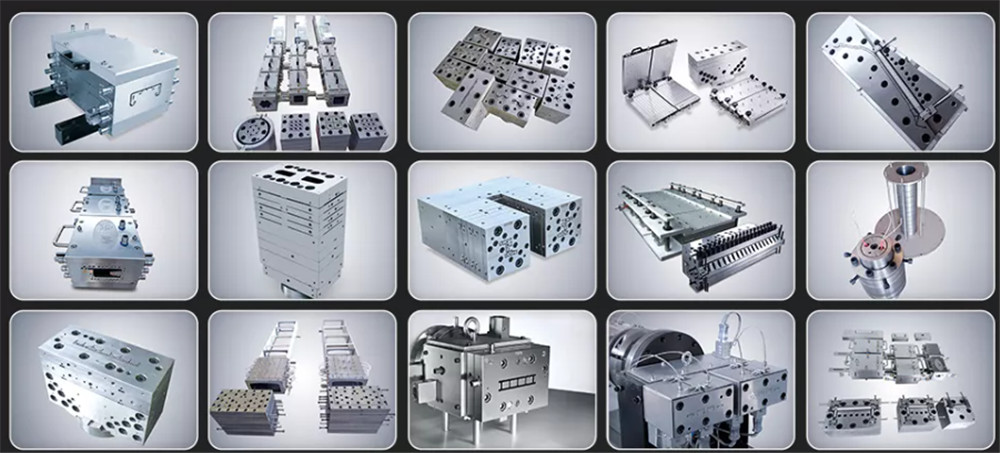 2.Vacuum setting/calibration table
- materials of parts in contact with water Stainless steel
- platform length 6000mm
- platform width 1200mm
- vacuum pump power 5,5kw × 3 sets
- vacuum degree 0.9mpa - pump power 2.2kw
- gas connection g1/2 "20 - water pipe joint g1/2 "20
- set mold support frame cast aluminum T-shaped channel rail is used to fix the set mold
- electric control cabinet and panel including waterproof function
- the vacuum sizing platform and the traction connection are connected by the guide screw and driven by the reduction motor
- the platform can be adjusted in three dimensions: front, back, up, down, left and right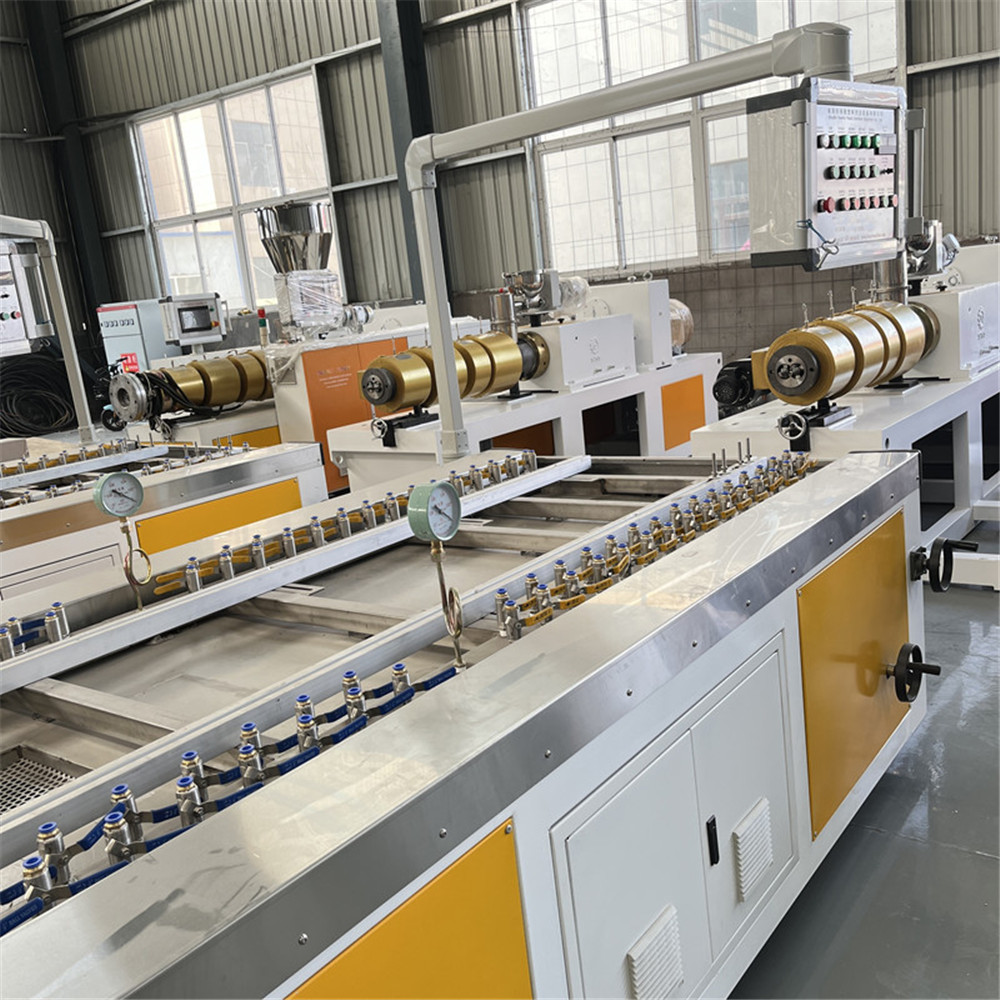 3.Tractor cutter
The traction device is designed to pull the profile in a continuous and stable state. Its prominent features are compact structure, maintenance free structure and absolute stability in operation.
- traction mode Crawler traction
- clamping form Pneumatic - effective track frame length 2000mm
- rubber block width 240mm - traction speed 0.3-3m/min
- drive motor K series gear reducer, 1.5kw × 2 sets
- motor controller mode Variable frequency control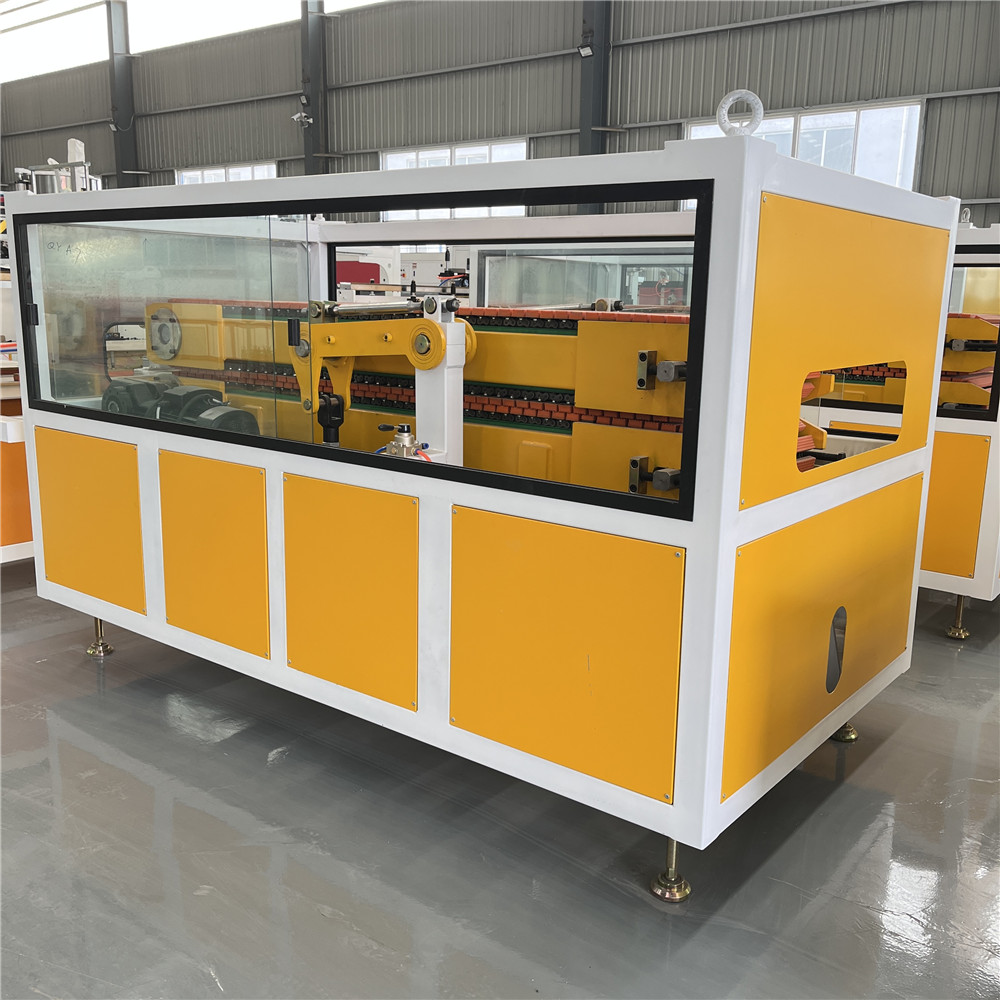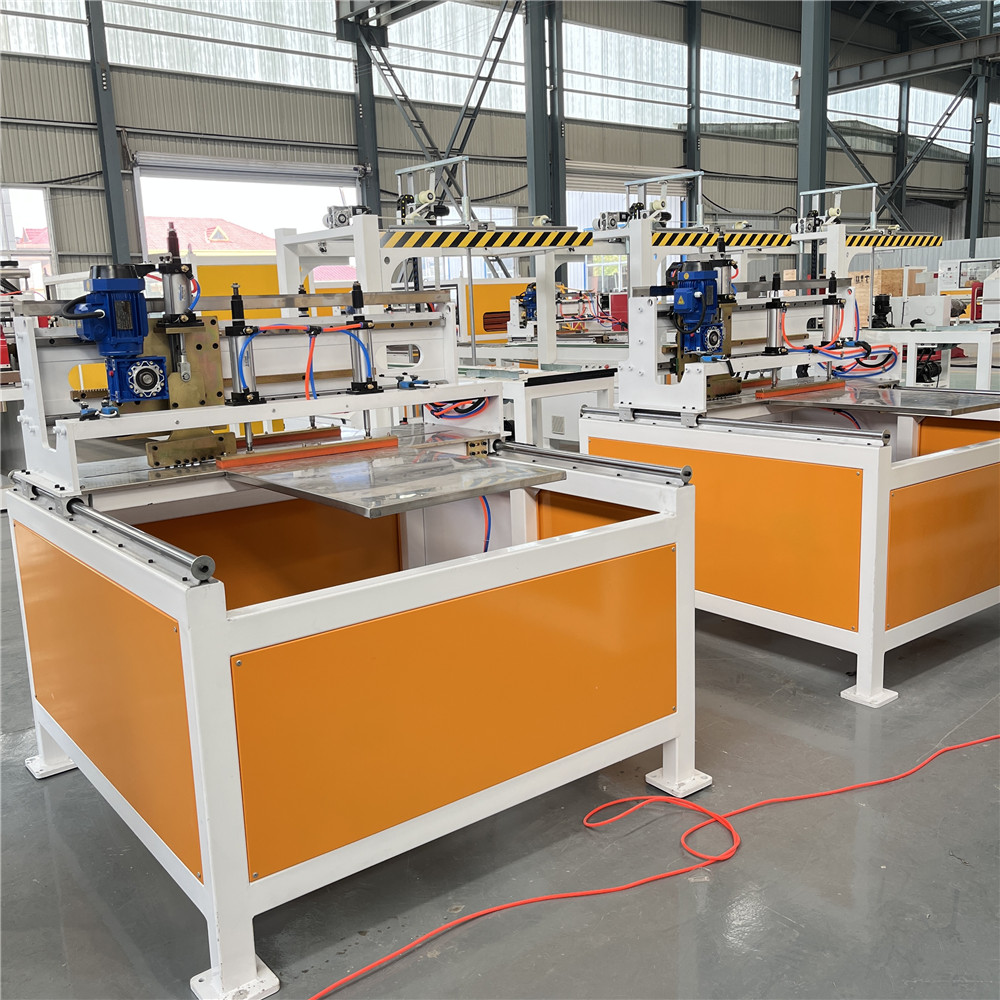 The length can be precisely determined by using the travel switch or the length measuring device can be adjusted, so that the length can be accurately measured and cut.
- Method Saw blade cutting - clamping mode Pneumatic
- workbench displacement mode Pneumatic translation - cutting range ≤ 350mm
Why Choose Upvc    Profile
1. waterproof : our products are waterproof, and do not expand, warp when come into water.
2. Fire Retardant: the profiles not burn itself, the product extinguishes immediately when the external flame source is removed.
3. Excellent weather ability: weather has no effect on PVC building materials. Problems like rotting, rust,etc. just don't apply,even in special conditions, coast areas ( salt,storm,sun ), UPVC is more applicable.
4. Anti UV: has a good UV protection function, can give you a comfortable and healthy life.
5. Thermal Insulation: the profiles designs with chambers, has good thermal insulation performance. Its heat transfer coefficient is low, so it can keep your house warm in winter and cool in summer.
6. Durability: Our profile are very durable and can last more than 30 years without color changes, damaged,etc.
7.Green environment Protection: with green formular and raw material, it is harmless to your healthy and environment.
Features of WPC Window Door Profile Board Production Line:
-This production line is widely used to make outdoor or indoor hollow door board, WPC PVC window profile, WPC door frame and so on from PVC and wood powder, The WPC boards has the advantage of water –proof, corrosion resisting, anti-moth, anti-aging, static-free, and flame retarded.
- Easy and convenient for operation and maintain
- Economical price, suitable for large scale investment.
- This production line is used to manufacture WPC profile with different section shape and height.
- The surface of WPC profile can be treated by hot stamping printing, lamination machine,etc. which can make wooden design on surface of WPC board.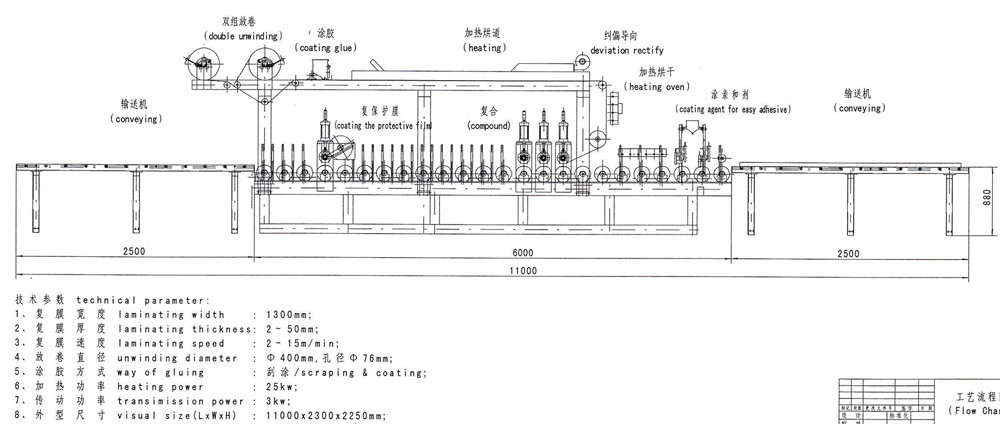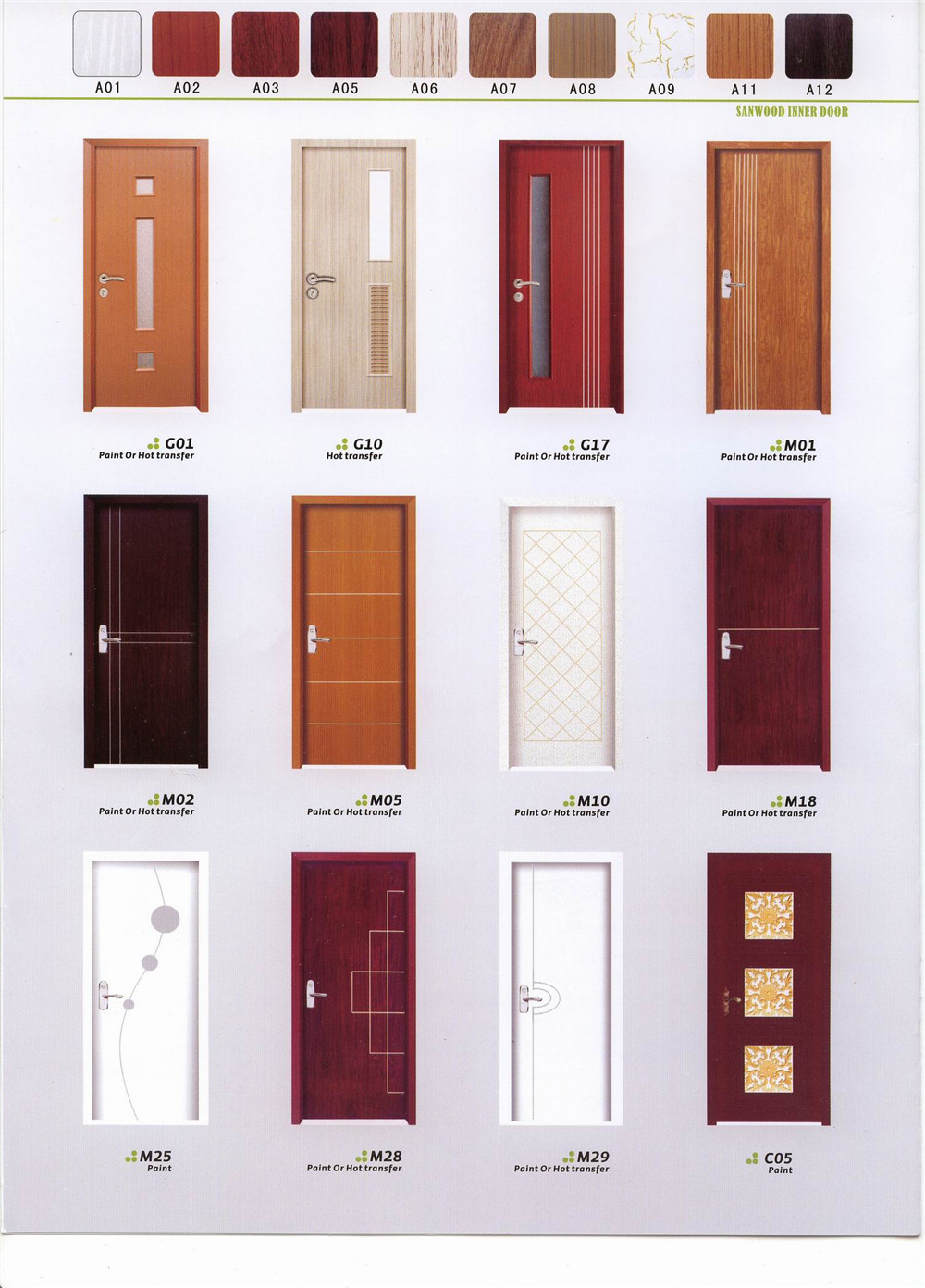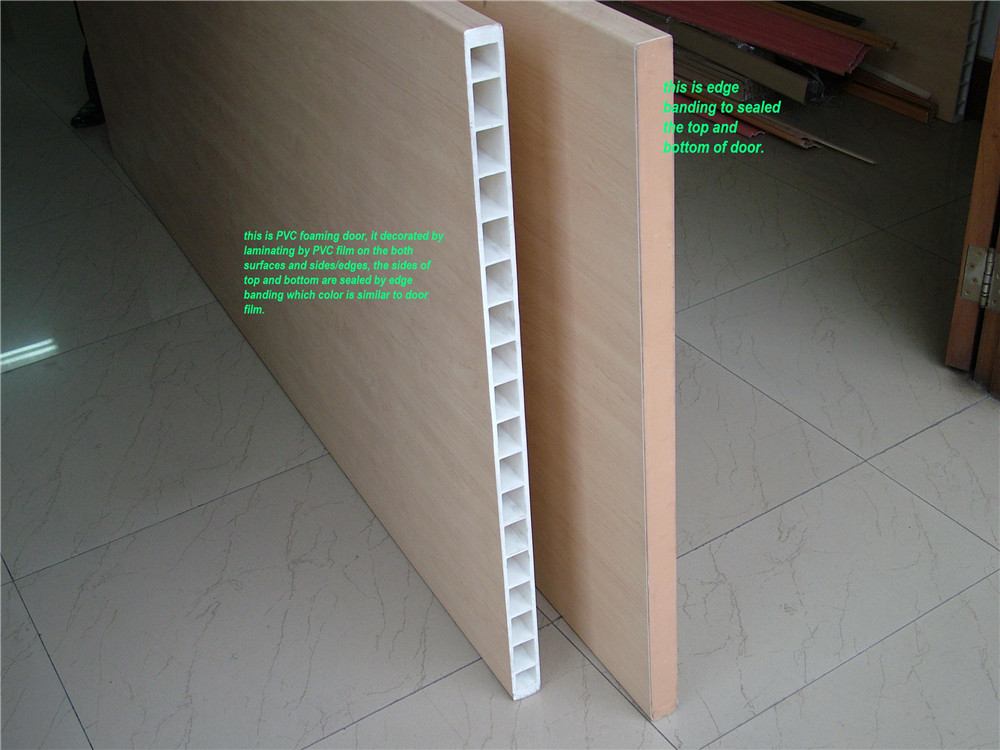 ---
Next:
Plastic profile machine
---
Write your message here and send it to us