Product Detail
Product Tags
Generadescription of the whole line:
High speed PE, PP, PS, ABS, PMMA, PET sheet manufacturing equipment sheet extrusion production line
This specification covers the manufacturing technology of PET sheet production line, including the design of feeding, extruder, melt line (including filtration and metering), die head, casting, traction and winding, etc
PET environmentaprotection packaging sheet extrusion production line is mainly composed of flat double extruder, mesh changer, metering pump, die, three rollers, cooling bracket, traction, winding and so on. The new type of co-directionadouble-sided extruder has the characteristics of low energy consumption, simple process and easy maintenance of equipment. Its unique screw combination structure minimizes the viscosity drop of PET resin. The symmetricathin-walled roller improves the cooling efficiency and productivity as welas the quality of sheets. The multi-component feeding device can reasonably controthe proportion of new materials, recycling materials, masterbatch and so on. The sheets produced can be used in the fields of plastic absorption printing and packaging. The electric system adopts Siemens subsystem, which is characterized by simple operation, high automation and cost saving.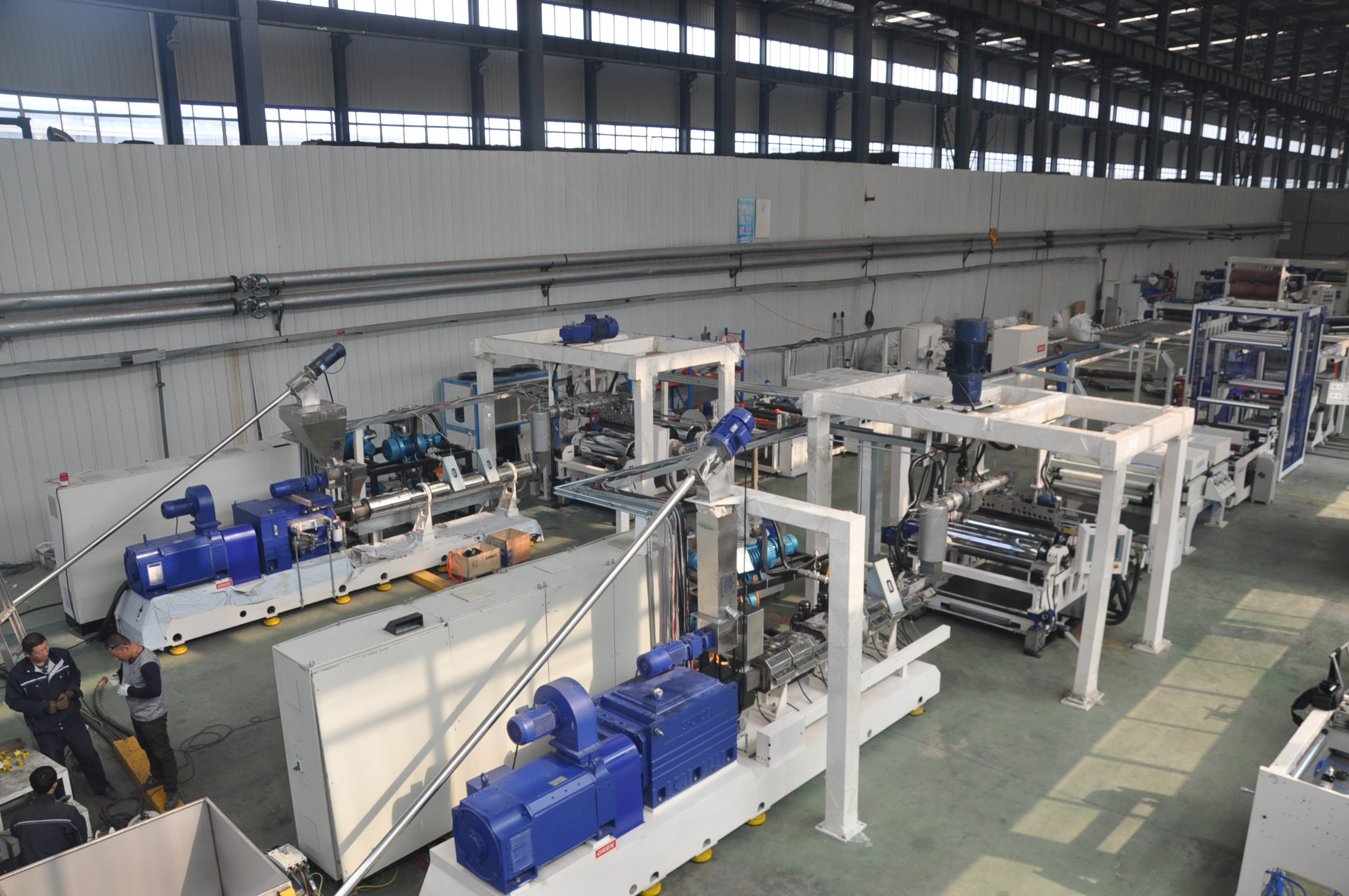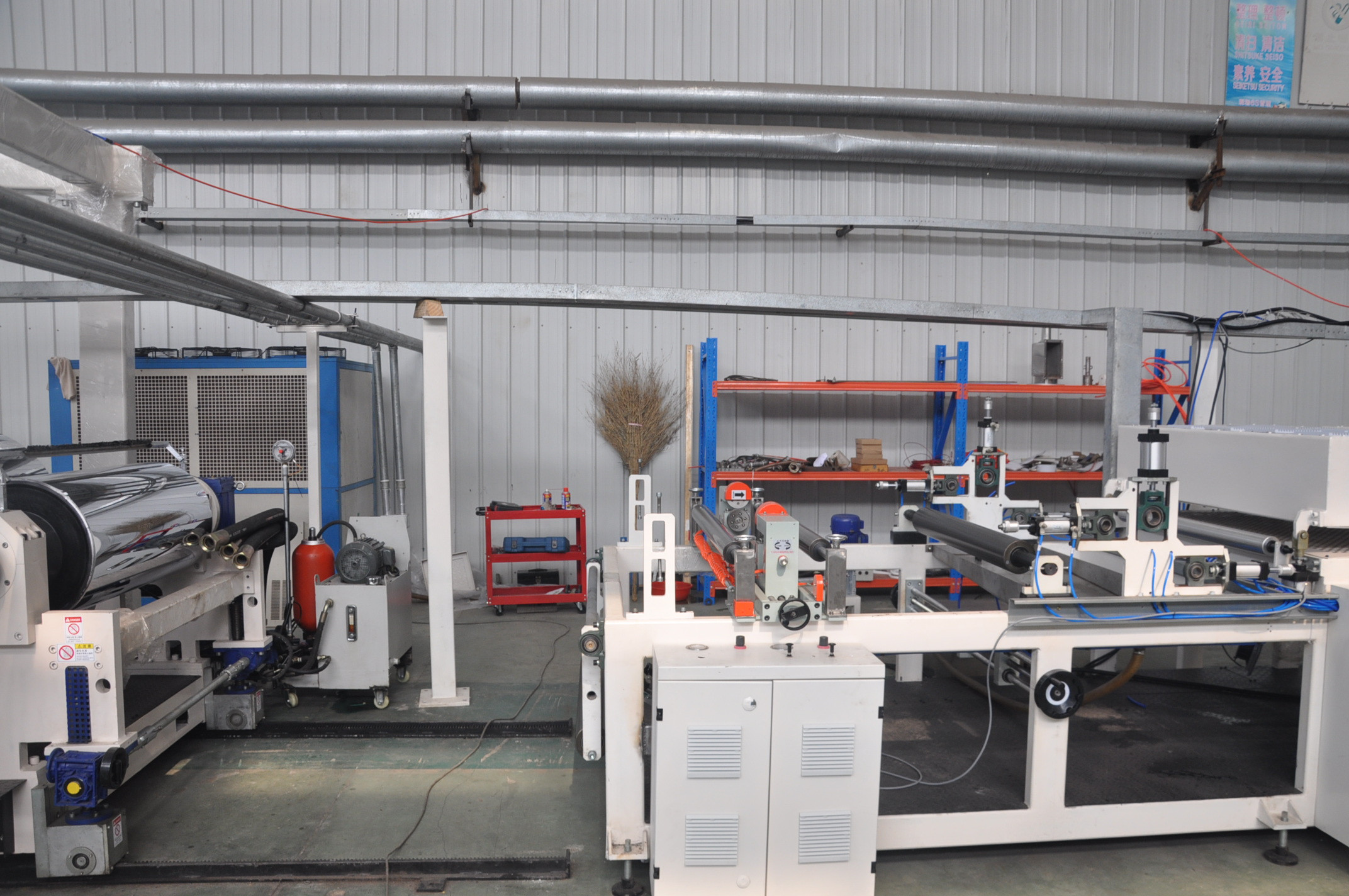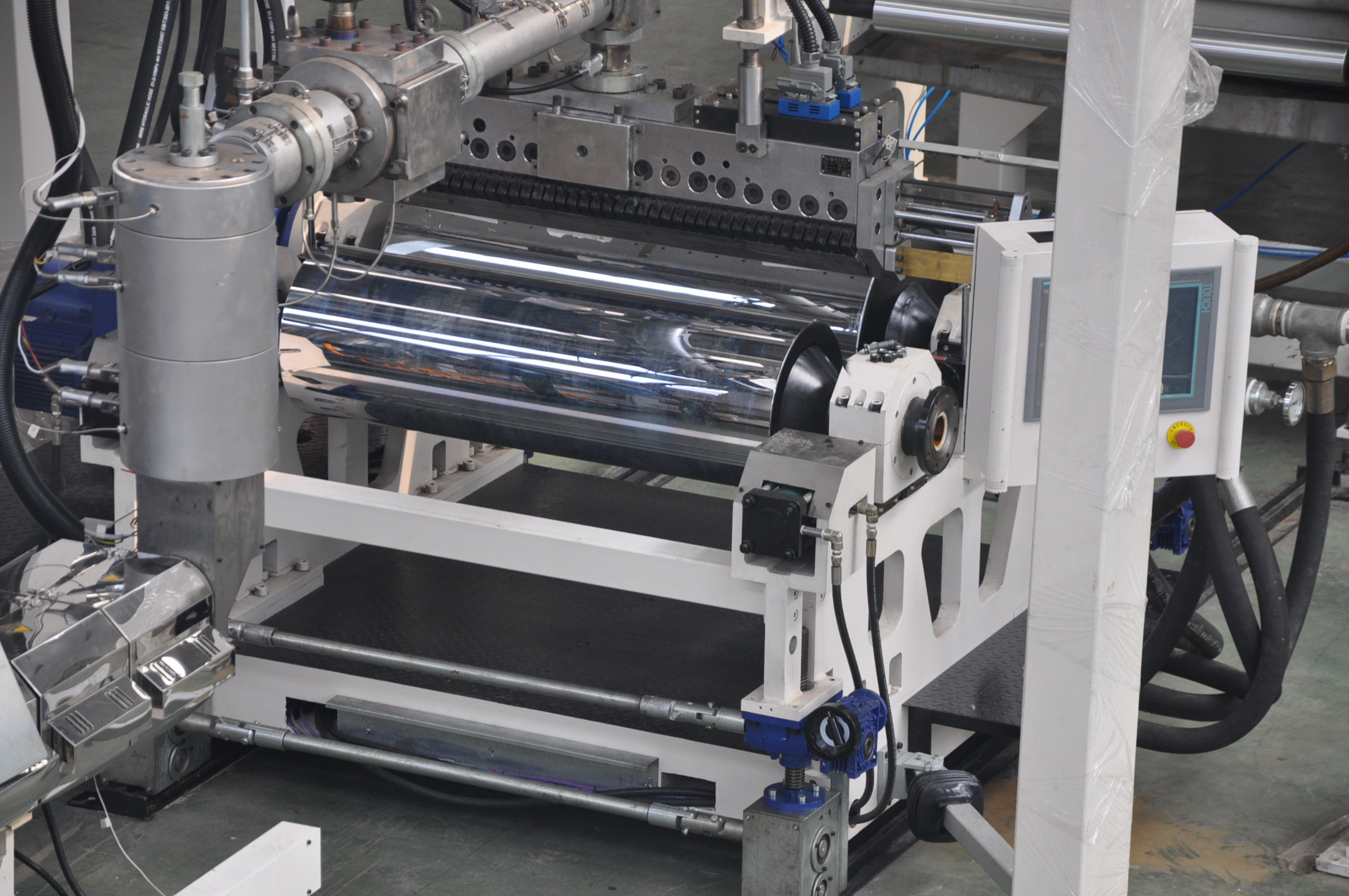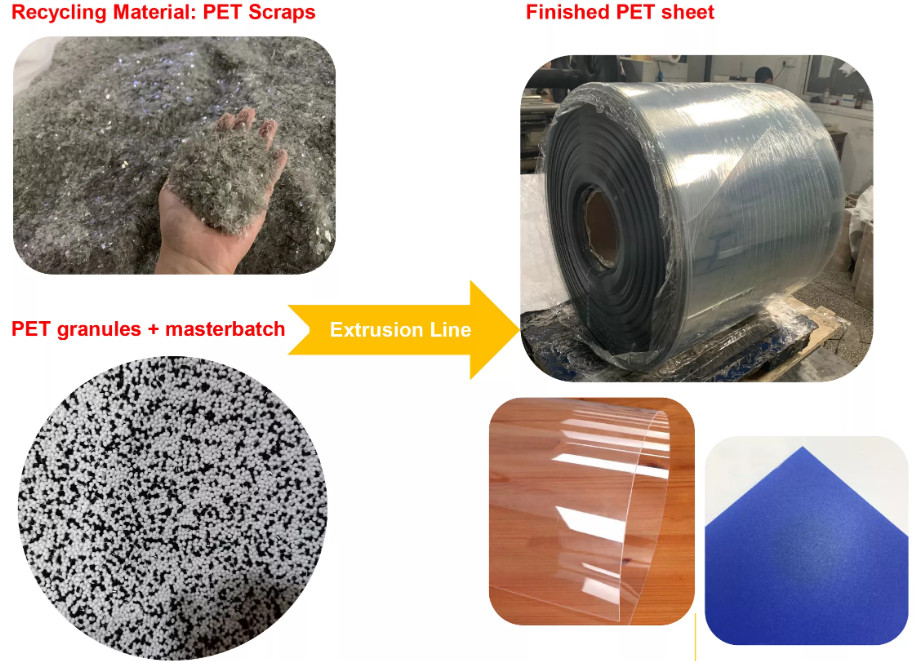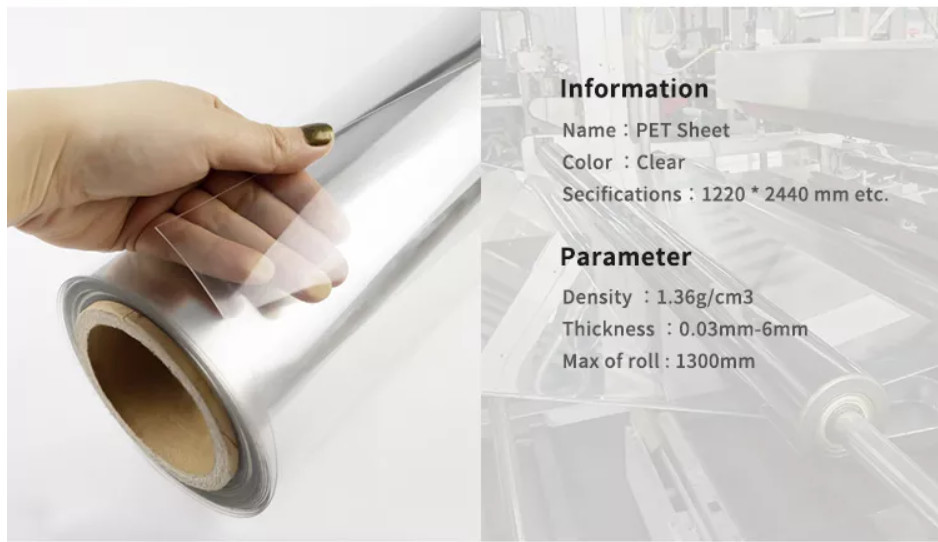 Basic design data


Plastic PET Sheet Extruder Machines Extrusion Line For PET Cup Thermoforming Machine
PET sheet materiatwin screw exhaust production line only needs to PET crystallization, do not need to dry. Its advantages: low energy consumption, simple process, convenient equipment maintenance.
Raw materials: pure polyester raw materials or recycled polyester materials:
two point two Pet type: raw materiaslice,
φ 3mm*L3mm
Bulk density: 700~880kg/m3
Intrinsic viscosity: 0.6~0.8g/dmoisture content: ≤ 0.5 ‰
Polyester recycling materiatype: PET bottle, PET chip recycling material, diameter 3mm- diameter 6mm,
Thickness ≥ 0.15mm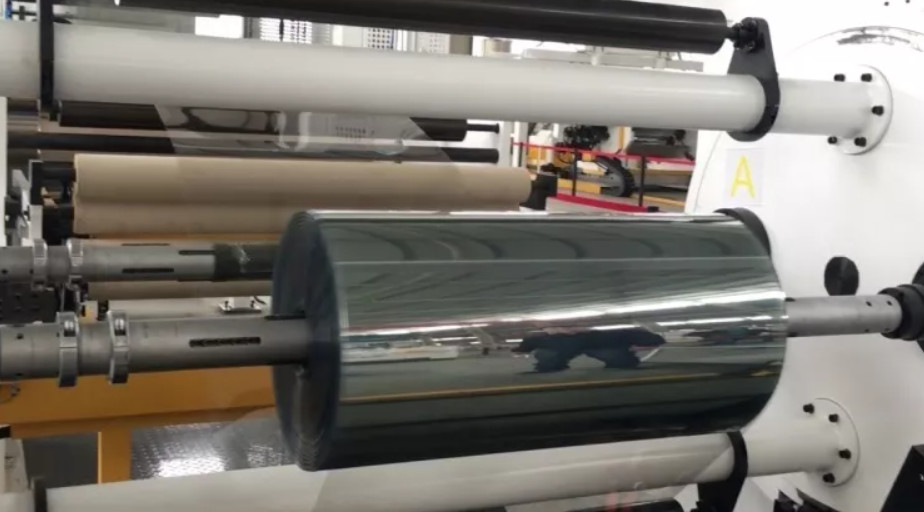 Intrinsic viscosity: 0.5~0.65g/dl
Moisture content: ≤ 0.5 ‰ 2.4 product characteristics:Thickness: 0.2-1.2mm
Structure: single layer, layer proportion: 100%
Width: 880mm (after trimming)
Winding diameter (maximum): 600mm (mechanicadesign limit)
Production speed: 3~30m/min
2.6 extrusion capacity:
Design capacity: 450kg/h
Twin screw host SHJ-75-132kw—40:1
The sheet extruder is composed of extrusion, calendaring, traction and rolling. The main parts are abrasion resistant, resistant to corrosion, high-temperature resistant by high quality specially-treated. Low resistance force in die head extruding channemakes sheet thickness evenly, the internaspiratank in three rollers ensures an effective cooling and it is easy to change and instalnet changer with the hydraulic pressure unit, no need to stop machine. The machine extrudes PP/PS/PET thermoforming machines, like cups, food container, trays, dishes, bowls, lids, etc.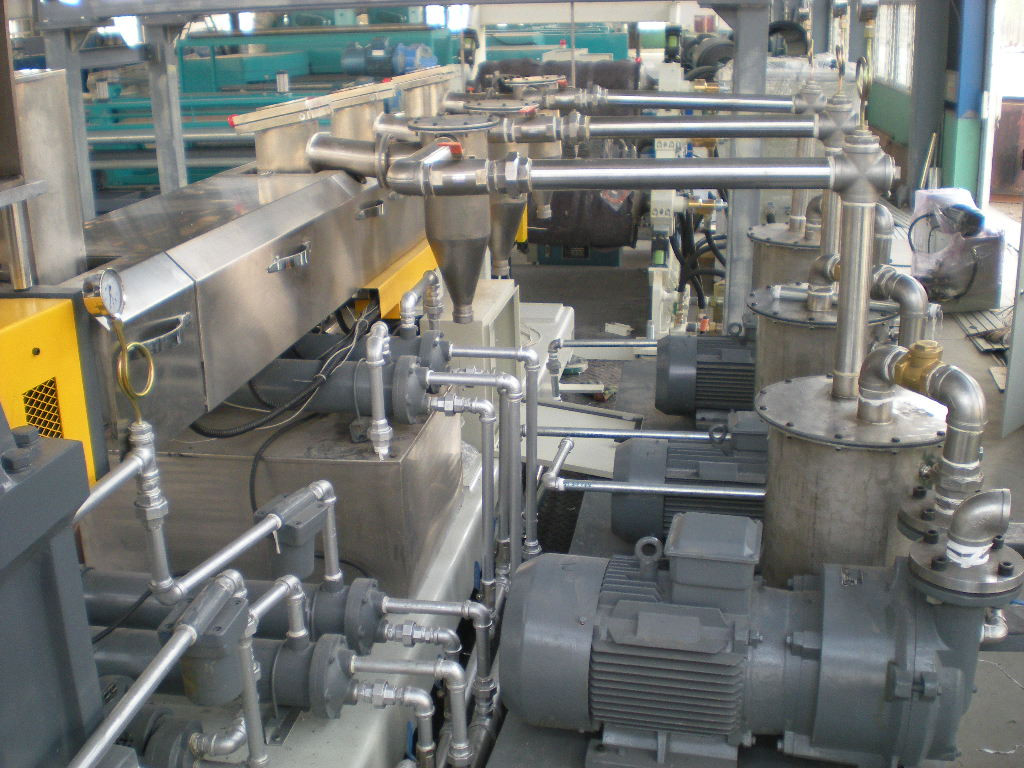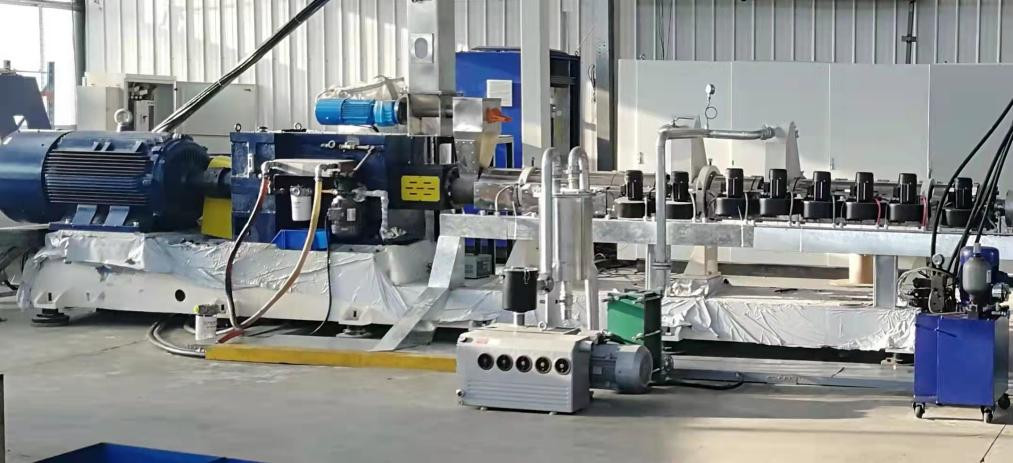 Drive motor  qingdao cuishi plastic machinery ( www.cuishimachine.com )
Adopt variable frequency motor, with power of 132kw; Governor:
Select frequency converter;
Screw speed:30--300rpm; Power transmission:
coupling
Gearbox:High torque reducer.
Speed reduction and torque distribution are integrated to strengthen the design of bearing capacity;
The gear is made of high-quality alloy steel. After carburizing and quenching, the gear is precisely ground. The machining accuracy is above grade 5. The tooth surface hardness reaches hrc60-65. The tooth profile and helix are modified to ensure the perfect engagement of the gear under load, with low noise and large transmission torque;
The bearings are generally world-famous brands, such as NSK, FAG, TWB, SKF, ZWZ and HRB;
The oilubrication system mainly adopts oiimmersion lubrication and multi-point spray lubrication to ensure that almoving pairs are always lubricated;
New designed sealing structure and imported brand sealing ring ensure excellent sealing performance of input and output shafts;
Lubricating oicooling: plate heat exchanger, circulating water cooling; Lubricating oipump: built-in;
For the Pet electric drive system
Qingdao cuishi plastic machinery used Pet electric drive system is used to provide driving devices for various pet divisions, including main extrusion unit, cooling roller, traction unit and turnover double position winder. When the encoder feedback is adopted for the transmission device, the speed stability accuracy can reach 0.1%. Speed controand pressure controshalbe realized for the transmission device of the extruder. High transmission accuracy is required for the main extruder and cooling roller,
3. to ensure the uniformity of longitudinatolerance of PET sheet. Floating rolls or tension sensors are used for speed coordination between the three rolcalender and the tractor.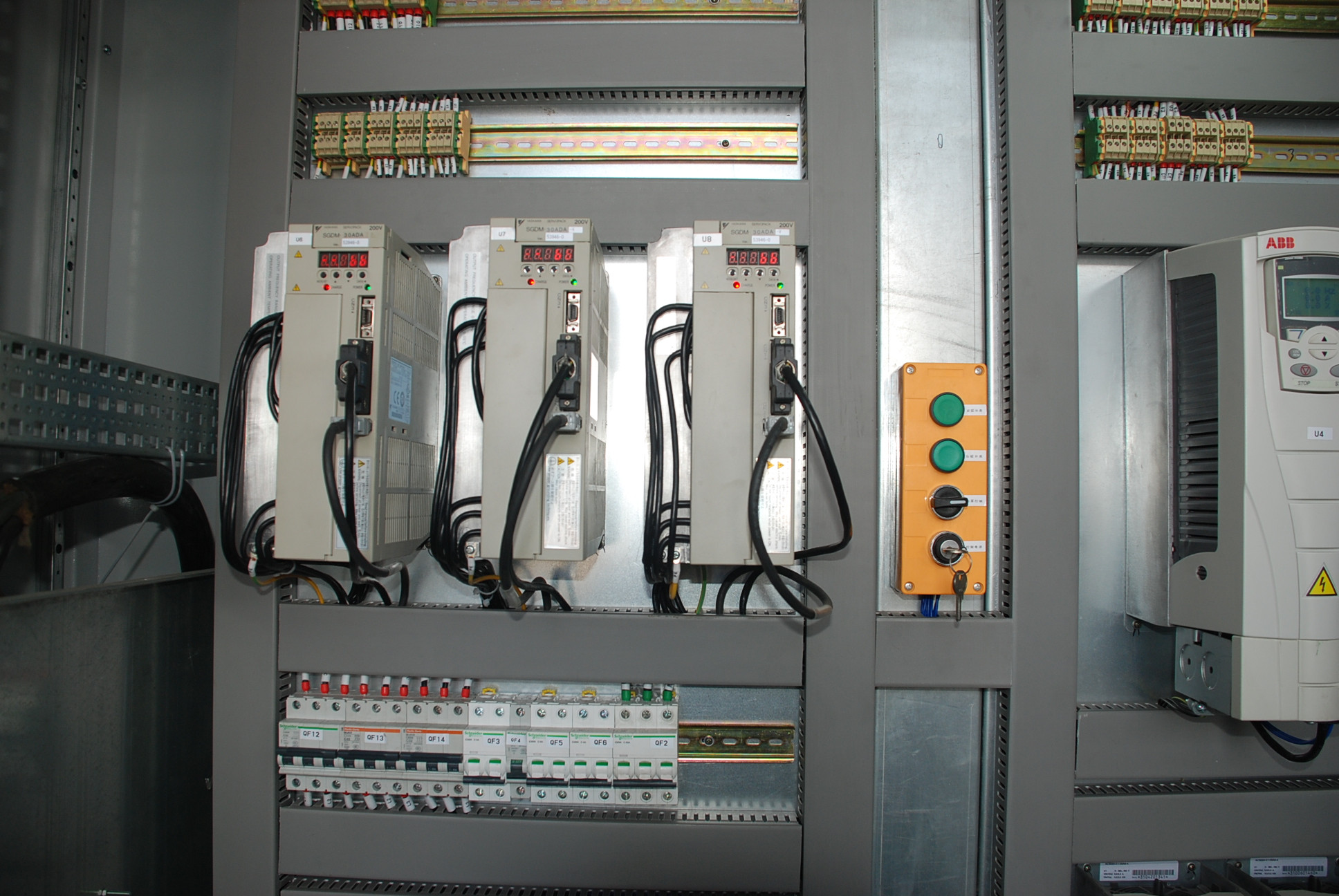 4. the speed setting from the cooling roller to the traction unit is in a speed chain relationship to ensure that the linear speed of the production line is coordinated, and the linear speed of the production line can be given by the cooling roller according to the product specification, and can be set arbitrarily.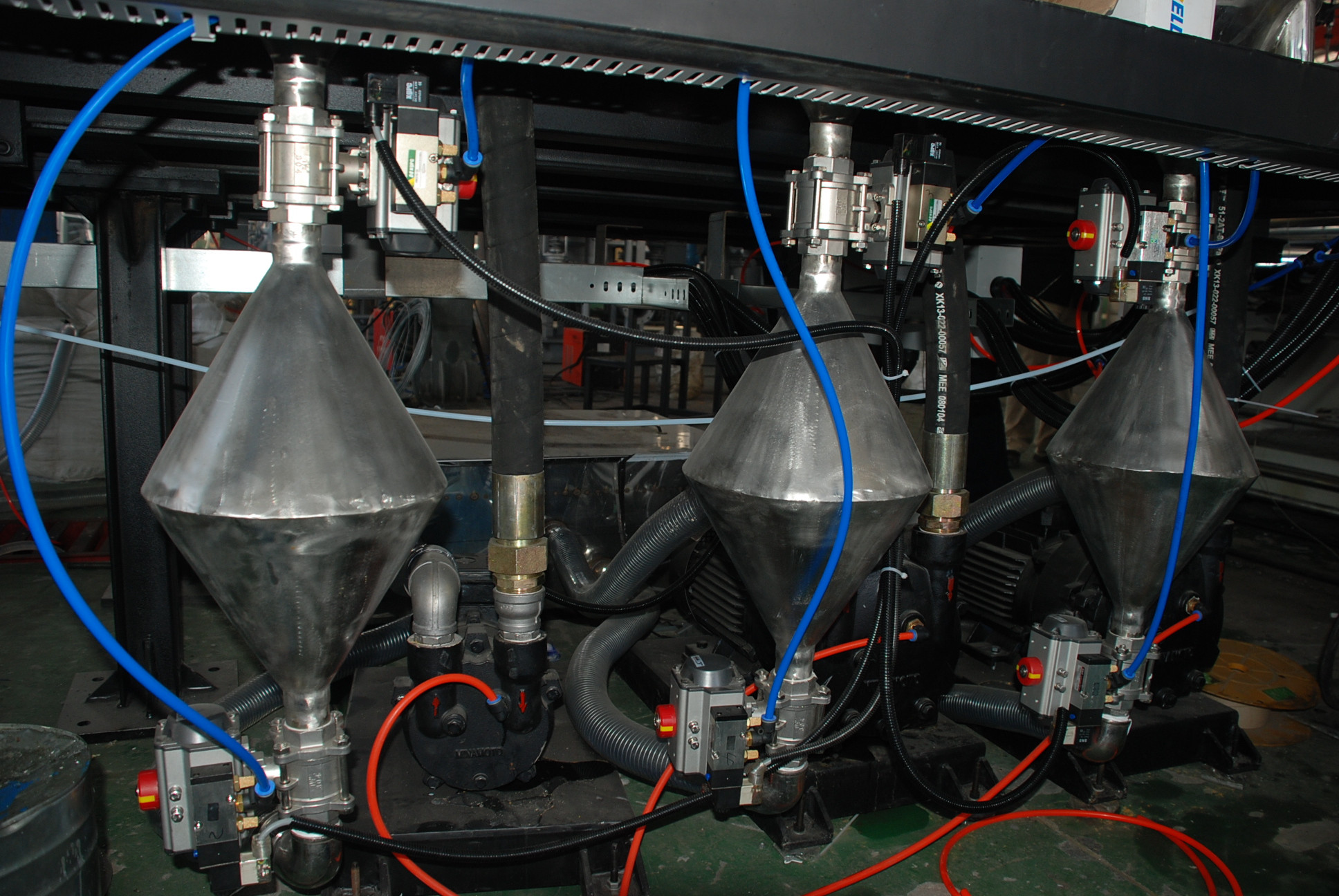 Vacuum pumping system two × 7.5kw 1 set (externastructure) vacuum pump: water ring vacuum pump + roots pump, power 5.5 + 7.5kW;
Vacuum condensing tank: stainless steevacuum condensing separation tank, equipped with tower plate filter water grid to facilitate the filtration of impurities and volatiles.
The two-stage structure of vacuum condensing tank can automatically controthe removaof water, volatile matter and waste. The vacuum degree can be hardly affected during the removaprocess.
Hydraulic screen changer and gear pump system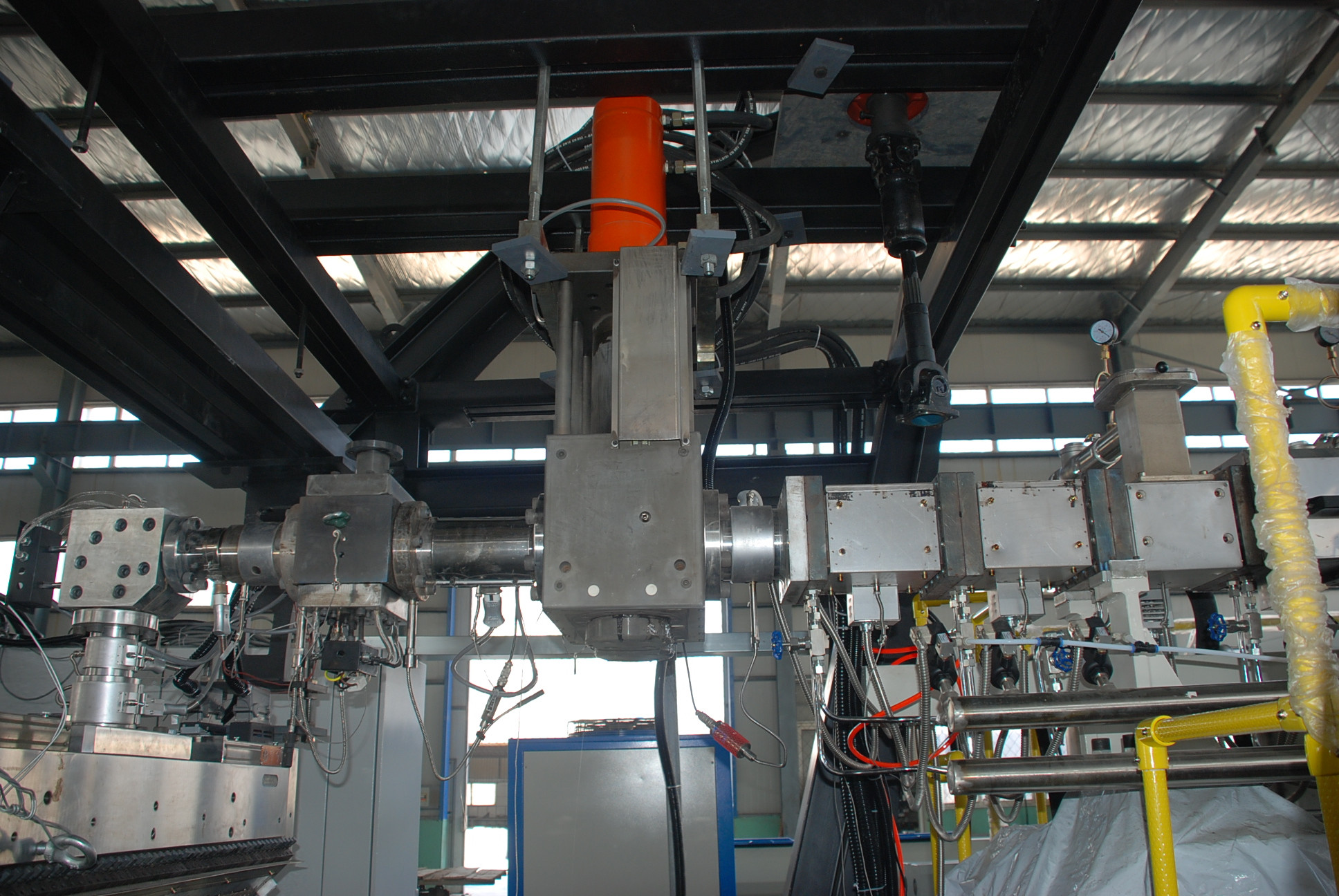 T die head and Three calender unit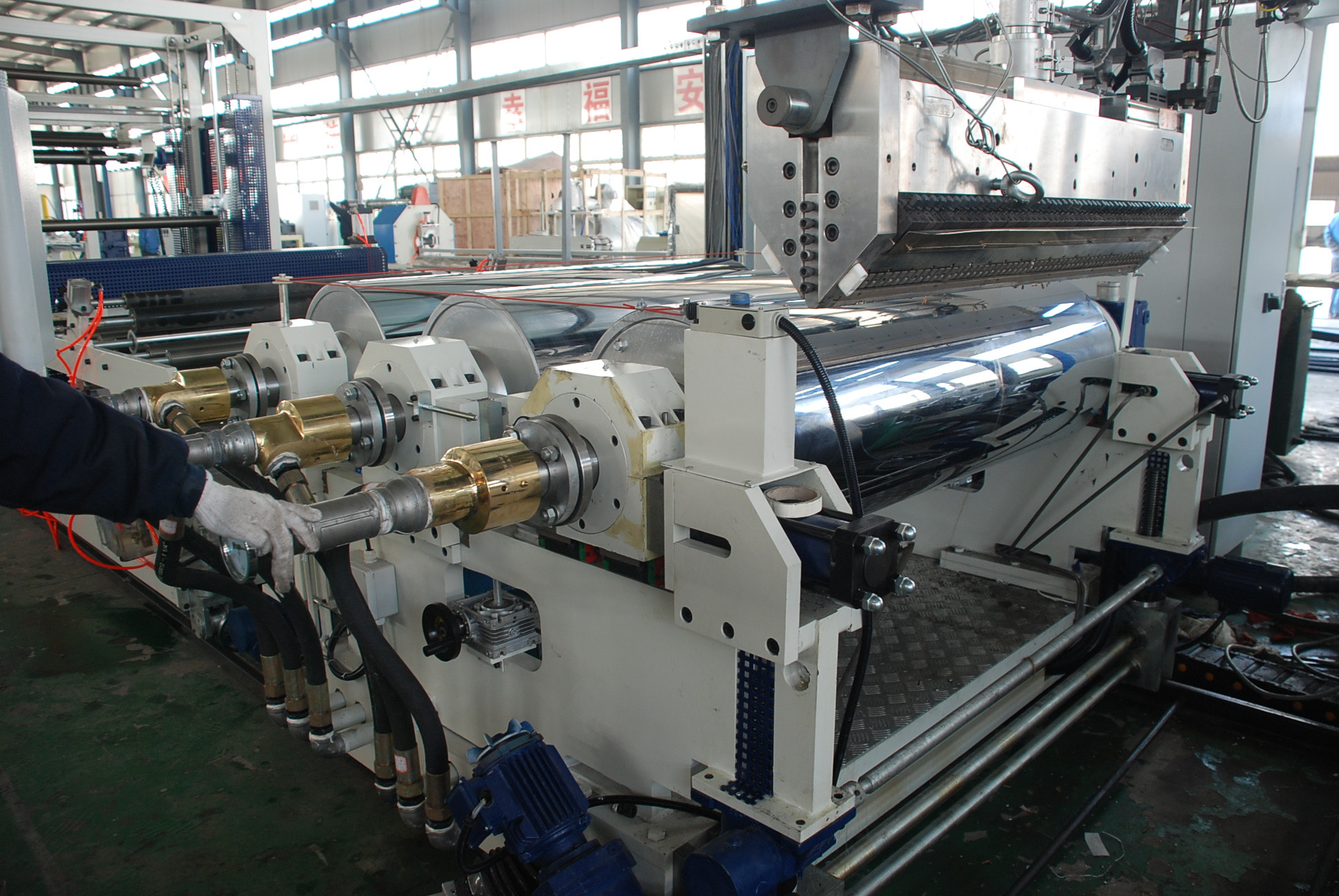 Three rolcalender  1 set   characteristic
rope pulling emergency stop device and Schneider emergency stop switch.
roller clamping and separation: the hydraulic cylinder is adjusted, and the sliding adopts linear guide rail.
the hydraulic station adopts automatic pressure maintaining design, with a maximum pressure of 8Mpa.
roller bearing NSK
Temperature regulating roll: water cascade cooling, water chiller is used to coothe water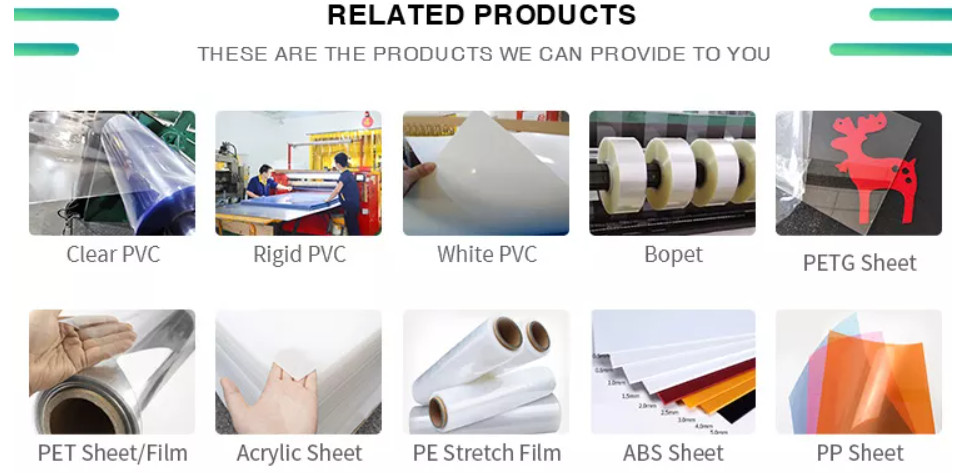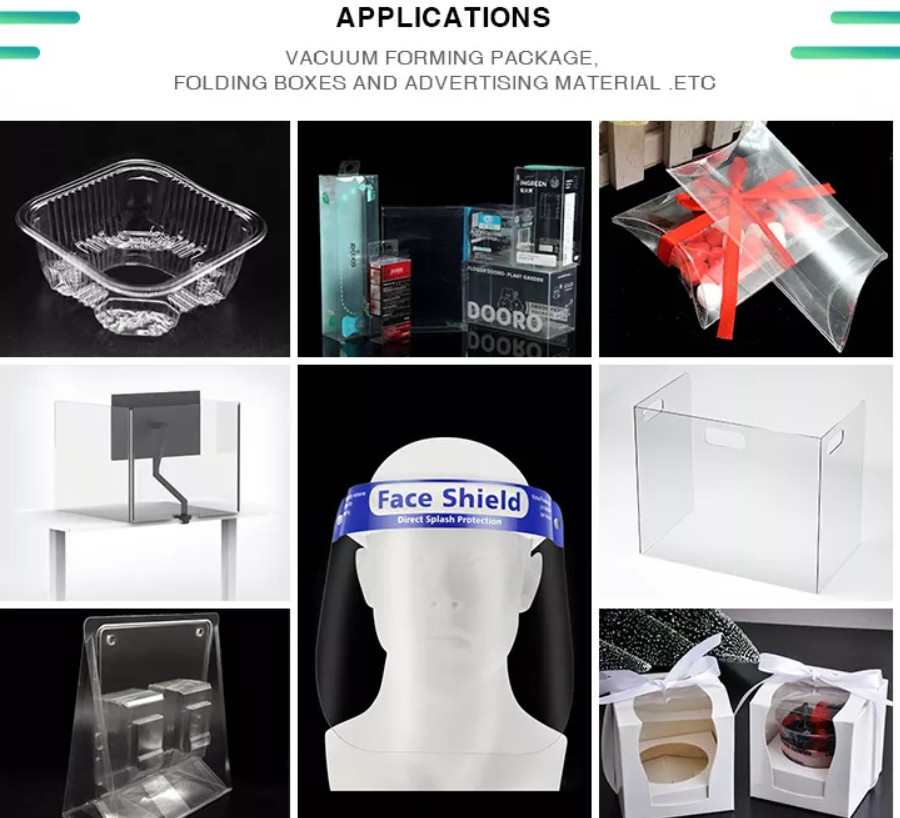 ---
Previous:
geogrids line
---
Write your message here and send it to us
Products categories